ask a question

Apr 15, 2014
So this is a question I got several days ago from a nice reader from France who thanked me for making her cry. (This is the best kind of email.) Then she went on to ask this:
Sometimes do you feel bad when you give sorrow to your readers?
I was going to toss off a quick "No! MUAHAHAHA!" in response, but it was late and I was tired and I went to bed instead. And then I woke up the next morning thinking about the question. Because it's one I've gotten before, and one I've seen other authors get all the time, but I've never examined much beyond "Nope, it's all good."
So here's the deal. No, I don't feel sorry for my readers when I write a sad thing. If only good, predictable things happened in stories, they'd be pretty boring. To me, fiction is a way to rehearse life from the safety of your own room. You can experience tragedy and terror and triumph, all the while able to close the book and walk away from the emotions any time they get too difficult. It's the wonderful thing about fiction—it's why books never get old. We humans have a lot of feels. They take a lot of rehearsing.
But I do feel for my readers. Yes, I end up a bit gleeful whenever a reader reports feeling what I wanted them to feel, even if it's sadness or fear, because that means I'm doing my job. But I also get this pang of sympathetic emotion, too, as if I can feel exactly what they're feeling—usually because I HAVE, while I was writing whatever the sad thing was.
To me, it's one of the best parts about being a writer. That sense of connection, of being able to share something as intangible and indescribable as an emotion directly from your heart to a stranger's halfway around the world.
Because it doesn't always happen—not every reader loves every book, after all. But when it does, it's like finding a friend, someone whose mind works like yours and feels the same things. My memories of beloved books rarely involve specific events in the plot or lines of dialogue. They're almost always memories of emotion, of how the book made me feel, and how they made me feel connected to the person who wrote it. 
So do I feel bad for giving sorrow to my readers? Not really… because my fondest memories of fiction are of authors giving sorrow—and joy, and fear, and love, and wonder—to me. That experience, that connection, was what made me want to be a writer too. And this experience is what makes me want to stay a writer.
---

Dec 14, 2013
So I got a question in my inbox that is chock full of spoilers, so I can't answer it the traditional way. I'd still like to address the sentiment, though, so I'm going to block out the spoilery sections to make it safe for general consumption.
Why didn't you explain what happened to [character] more? Now we don't … even know if it's a happy ending or not! I loved this book up until you did that. Tell me whether I'm suposed to be happy or sad!!
Well, first of all, I will say this: the thing, the event, the twist to which you are referring, is something that definitely divides our audience. Mostly we've had great feedback about it, which is lovely, to see people experiencing reading what we experienced writing it. We do occasionally get readers with your reaction, and that's fine too. You're allowed to feel however you feel about a book, just as authors are allowed to make whatever choices about their books that feel right to them as artists.
But secondly, and most importantly, this is science fiction. True science fiction asks questions of its readers. What does it mean to be human? How do we fit within this universe? What makes us different? What makes us the same? And while sometimes SF answers those questions, more often than not it leaves it up to you, the reader.
Science fiction WANTS you to struggle, and to ask questions, and to think about what you're reading. If all books were easy, we'd never learn anything or change or be affected by what we read. We wanted people to ask the very questions you're asking about [character]. It's part of the experience.
Science fiction is very rarely black and white. If you want books that are easily categorized as "happily ever after" or not, if you want a book that spells out exactly how you're "supposed" to feel, you might be reading the wrong genre.
So I'll leave you with this: what do YOU think it means for [character]? Forget the words on the page, the black and white… does it feel like a happy ending to you? Because whatever you're feeling… that's what you're supposed to feel. There's no right or wrong response to a book, there's only what you feel.
---

Nov 17, 2013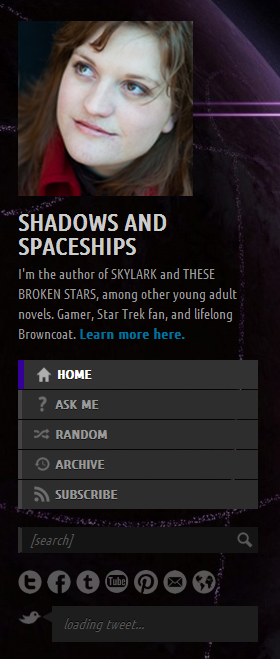 Hi folks! I've just recently joined Tumblr—I know, I know, I'm basically the last person left not already on that thing. But it's proving great for sharing little things, things that are fun but not exactly worth writing an entire blog post about. I haven't yet decided whether my Tumblr will replace my full-sized blog, but for now I'll be most active there while reserving this space for bigger announcements and things that take more space to say! (And it will remain the home of In Search of the Write Space for now, as well!)
One thing to note is that I've moved my "ask a question" feature over to Tumblr. You can ask all your questions there now, and I'll be answering the unanswered questions in my queue there instead of here. So if you've asked a question and haven't gotten an answer yet, follow me on Tumblr to watch for the response! (Or if you think I've missed your question altogether, you can ask it again there by hitting the "ask me" button.)
So, if you're on Tumblr too, look me up! I'm hoping to do some brand new contests over there as soon as I've gotten settled.
---

Sep 16, 2013
It's been a long time since I did an "Ask a Question," but Amie and I have been getting this question a LOT, so I wanted to put an answer front and center!
---
Annabel P. (and others) asked, "I just finished reading THESE BROKEN STARS (omg so goodddd) but I'm wondering about the sequel. It says that it's the first in a trilogy, but book one wraps up so well, what's going to happen in book two?"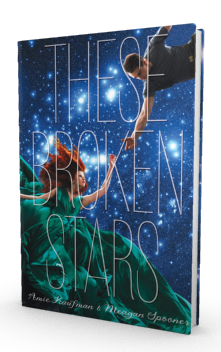 That's extremely perceptive of you! We actually wrote THESE BROKEN STARS to be a standalone novel. The Starbound series is not a traditional trilogy, following the same characters in one linear plot. Each of the three books will focus on a new pair of characters, and their individual stories.
So these books are actually more like companion novels than direct sequels. They all take place in the same universe, and they actually do happen in chronological order. We designed the whole story so that the things that happen in book two couldn't have happened without the things that happen in book one, and so on. So each of the books will build on the one(s) before it, BUT, you can also read them separately with no real drawback except spoilers. (And don't worry… there is a very distinct possibility you might see a familiar face or two in the other books!)
We love trilogies, of course, but we also love being able to read a book and have it be finished and completely satisfying in one shot, too. So with the Starbound series, we've aimed for the best of both worlds!
THESE BROKEN STARS is available for pre-order from your
favorite online or local bookseller. Snag your copy now!
IndieBound | Amazon | Book Depository | Barnes & Noble
---
Do you have a question you'd like me to answer about books, publishing, or anything else? Ask it here, and enter my monthly drawing to win a prize pack of signed swag!
---
To see more questions I've answered, click here.
---

May 10, 2013
So far, this is the most commonly asked question of all! I'm so glad so many of you are excited for the sequel to SKYLARK. Seriously, it makes my day!
---
Kayla B. asked, "I just read SKYLARK and loved it! Was wondering when the other books of the trilogy might become available."
(This question or a variation thereof was also asked by Jessica A., Bookwyrm16, Lexie F., and others!) (Read more…)
---

Apr 22, 2013
Katelyn L. asked, "What part of the writing process do you find most difficult? For example, world building, character developments, editing, etc."
Each aspect of writing has its challenges for me, and they crop up unexpectedly. I might be as familiar with a given character as I am with my own family, and one day just suddenly struggle to get through a scene with her. Or I might just be ripping along at a good pace and then suddenly hit a huge plot hole I never saw coming and sit there for four hours trying to figure out how that happened. Maybe I shouldn't admit this, but for me, it's not that any one thing has a tendency to go wrong… it's that anything could go wrong at any time!
I actually did used to really struggle with action scenes, because I was afraid of committing to them and then not really pulling them off. Sometimes my short stories would read like a classic Greek play, where all this dialogue and character building would happen "on stage" and then the real action would sort of happen off-camera and we'd be watching the characters dealing with the aftermath. It became such a habit that I still occasionally catch myself doing it–not because I can't or even don't want to write the action scene, but because I was so used to doing things that way for so long. (Read more…)
---

Apr 19, 2013
Mary O.
 and Bookwyrm16 both asked, "What inspired you to write SKYLARK?"
What a great question—inspiration is so hard to pinpoint! For me it comes from everything around me, from the people I talk to to the books I read, the music I hear, the movies I see. But for SKYLARK, I can actually point to a single moment that inspired the idea for the world, which then led to everything else. (Read more…)
---

Apr 15, 2013
This question deals with a character in SKYLARK–there are some mild spoilerish parts in this answer! Nothing major gets revealed, but if you're as anti-spoiler as I am and you haven't read SKYLARK, be warned!
---
Carolina S. asked, "Nix is positively my favorite character! How did you come up with him?"
It's funny–Nix is genderless, but almost everyone uses a gendered pronoun when they talk about the character, because we're not used to saying "it" to describe sentient, animate creatures. More people seem to call it a "him," but I've definitely come across plenty of people who call Nix a "her!"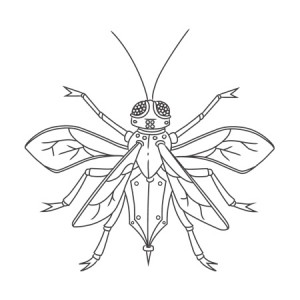 For those who aren't familiar with SKYLARK, Nix is a pixie–which, in Lark's world, is the name for little mechanical insect-like creatures that the Institute uses to spy on its citizens. When Lark escapes, Nix tracks her, and after she incapacitates it, it's forced to become her reluctant ally.
Nix started out as sheer necessity. As I was writing the first draft of SKYLARK (which was then called THE IRON WOOD, but that's another story) I was just ripping along at a great pace until Lark escaped the city and was out in the wilderness. Completely alone. I realized she had no one to talk to and no one to interact with, and while there are a lot of amazing books out there which handle this situation beautifully, it wasn't actually what I was going for. So I decided she needed a companion (aside from Oren, who she meets later). (Read more…)
---

Apr 12, 2013
Amie Kaufman and I are running a MASSIVE giveaway with swag and ARCs from over twenty YA authors in order to kick off our brand new joint newsletter. Be sure to go check it out!
---
Katelyn L. asked, "What was the process behind naming SKYLARK?"
The original title of SKYLARK was THE IRON WOOD. That was the title I'd called it from the very beginning. I don't outline, but I do usually have a pretty good idea of where a story is headed, and I knew where Lark was going when she escaped. So that was the title of the manuscript when I queried and signed with my agent, and that was also the title under which the book sold.

---

Apr 05, 2013
Your
questions
are starting to come in, and I decided to kick this new feature off by choosing a question about why I do what I do!
---
Lexie F. asked, "What made you want to become an author?"
Reading was probably the single most significant part of my childhood and teenage years. Books were my best friends and my greatest love, and I never went anywhere without them. I could never get enough words and stories and characters. Being completely and utterly absorbed by a book remains one of the most rewarding and satisfying experiences I can think of. How can I not want to give that in return to kids today?
I love writing, but the drive to do it professionally comes from the desire to share these stories and worlds with kids today the way the authors of my childhood did with me. I want to form those same bonds across time and space, and if I can make even one reader get lost in my books, I'll have done my job.
---
Do you have a question you'd like me to answer about books, publishing, or anything else? Ask it here, and enter my monthly drawing to win a prize pack of signed swag!
---
To see more questions I've answered, click here.
---