Tumblr!

Nov 17, 2013

Uncategorized

Comment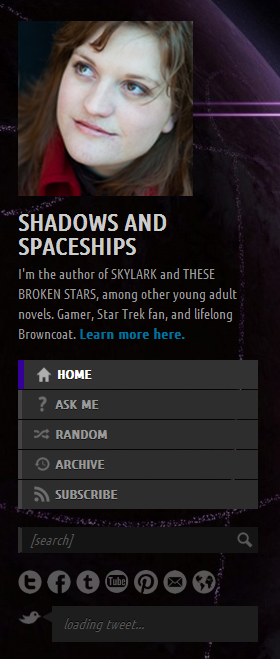 Hi folks! I've just recently joined Tumblr—I know, I know, I'm basically the last person left not already on that thing. But it's proving great for sharing little things, things that are fun but not exactly worth writing an entire blog post about. I haven't yet decided whether my Tumblr will replace my full-sized blog, but for now I'll be most active there while reserving this space for bigger announcements and things that take more space to say! (And it will remain the home of In Search of the Write Space for now, as well!)
One thing to note is that I've moved my "ask a question" feature over to Tumblr. You can ask all your questions there now, and I'll be answering the unanswered questions in my queue there instead of here. So if you've asked a question and haven't gotten an answer yet, follow me on Tumblr to watch for the response! (Or if you think I've missed your question altogether, you can ask it again there by hitting the "ask me" button.)
So, if you're on Tumblr too, look me up! I'm hoping to do some brand new contests over there as soon as I've gotten settled.