newsletter

Jul 07, 2014
The newsletter I share with amiekaufman went out this morning. Over the months we've had numerous reports of subscribers only occasionally receiving the newsletter, and this month I'm going to do my best to troubleshoot that. To do so, I need YOUR help!
So if you were subscribed as of 11am EST today, July 7, but you didn't get this morning's newsletter, the first thing to do is search your spam folder. If you find our email in your spam folder, try adding us (starboundtrilogy [at] gmail [dot] com) to your contacts or address book so that your email client knows we're a safe sender.
If you didn't get the newsletter AND you can't find it in your spam/junk folder, and if you're willing to help me troubleshoot this issue with Mailchimp, please email me at the starboundtrilogy address above. Thanks, guys!

blog
,
mailchimp
---

Oct 29, 2013
Hey guys! As some of you know, I have a newsletter with my fabulous co-author, Amie Kaufman. On it we do share news about our books, but we also include articles about the industry, interviews with other professionals like editors, agents and other authors, and behind the scenes glimpses. This month, though, we're going to have an absolute doozy of a newsletter. So we wanted to let you know, in case you wanted to subscribe and get the cool stuff!
Firstly, we are going to be sharing the first ten minutes of the THESE BROKEN STARS audio book, from Listening Library, with our subscribers! Guys, let me tell you, this is like no audio book I've heard before. I'm not just saying that because it's mine—it really is unique. They hired not one, not two, but THREE narrators–one for Lilac, one for Tarver, and one for the interrogator between scenes. And the narrator for Tarver, Johnathan McClain, emailed us to let us know how much fun he had, and told us that he actually got to be in the recording booth with the interrogator during those scenes, and that it was more like a play than a narration. COOL, right?
Secondly, and perhaps the only thing even more exciting than the audiobook sample, is that we are announcing the title of book two in the Starbound Trilogy! (Plus, a little tidbit as to what the book will be about.) It's been a closely-guarded secret for over a year (yes, we knew the title even then) but we've finally gotten the go-ahead to share it. So, tune in for the newsletter next week. As promised, it'll be a doozy.

Uncategorized
---

Apr 08, 2013
It's newsletter time–and GIVEAWAY time! Amie Kaufman and I now have a joint newsletter, where you can receive all the latest news on our books, as well as information about upcoming signings and events, writing advice and tips, exclusive contests, and sneak peeks at secret upcoming projects! What's more, by signing up for our newsletter in the next two weeks, you can also enter to win our TOTALLY awesome contest. In the process, you can let us know what YOU want out of your newsletter, and get extra entries!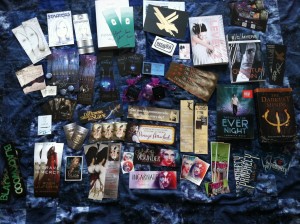 Because we want to hear from YOU, we decided to offer a prize pack of swag and books from over TWENTY authors, not just our own. The winner will receive a package full of signed swag (including bookmarks, postcards, temporary tattoos, jewelry, tea, buttons, author business cards, book plates, magnets, stickers, and more) from over twenty authors, as well as FIVE advance reader copies from my collection, which the winner will be able to choose. Click on the image to enlarge it and see the prizes!
Contest is open INTERNATIONALLY, but due to shipping costs, international winners won't receive the ARCs. (We're so sorry, but the cost is insane!) You will get all the other awesome stuff though!
Click the link below to subscribe, then be sure to come back here in order to enter the contest and tell us what you want in a newsletter!

Uncategorized
---