SKYLARK Giveaways!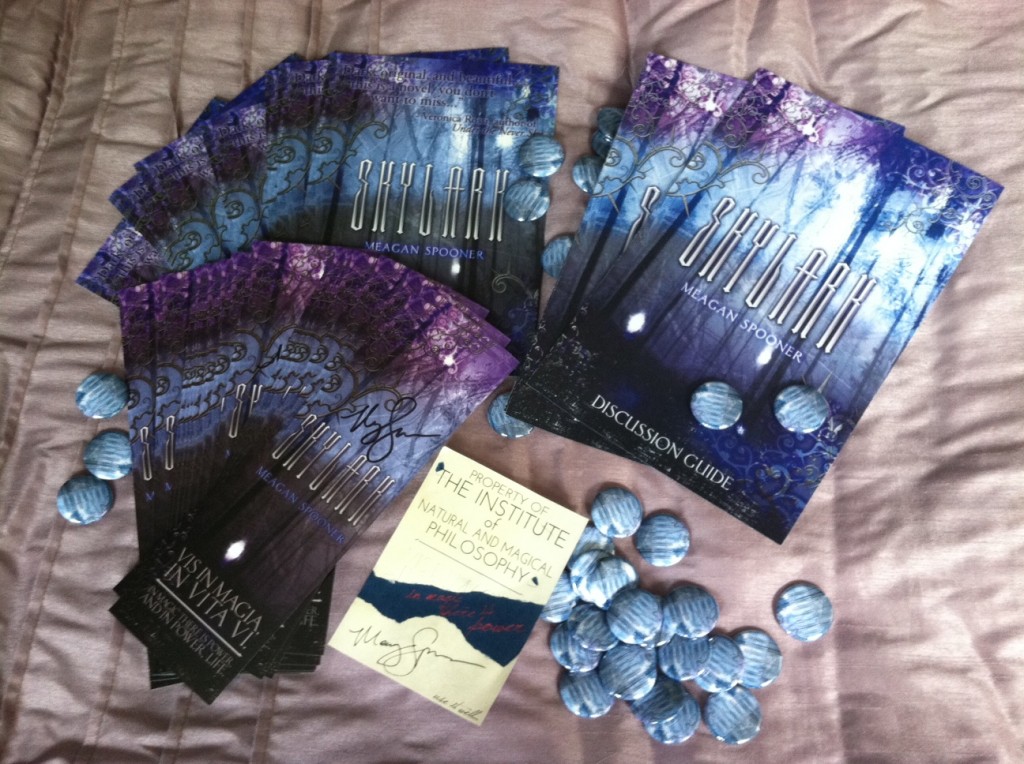 First of all, if you're looking for a SKYLARK giveaway, be sure to enter the SKY'S THE LIMIT Contest for SKYLARK! You can win books, ARCs, Skylark necklaces, discussion guides, temporary tattoos, and more–and the best part is that everyone who enters, wins. You heard me! So head on over there right now and enter. But if you want to increase your odds of winning an early copy, check out these other contests open now around the web. For your convenience, I've compiled a list of all the places where you can WIN a copy of SKYLARK, a pack of SKYLARK-themed swag, or any other SKYLARK-related goodies! They're organized by closing date–GOOD LUCK!
Bloggers, if you're giving away something SKYLARK-related and you're not listed here, please contact me and I'll add you to the list!
Closing 7/25
Read this kick-ass interview at Cuddlebuggery, where they're also giving away a signed hardcover of SKYLARK. Don't miss out–this interview involves aliens!
Closing 7/26
Come check out the brand new title for SKYLARK's sequel on Goodreads, and retweet the announcement tweet for an entry to win a signed hardcover. Also add the title to your to-read pile on Goodreads, and gain an extra entry! (Open Internationally)
Closing 7/27
Win a signed first edition hardcover at SKYLARK's Goodreads Page! (Open to US and Canada.)
Closing 7/28
Check out my post on Inspirations and Influences over at The Book Smugglers, and enter to win a signed first edition hardcover of SKYLARK!
Closing 7/30
Win a SKYLARK swag pack over at Bites, and check out my interview with Donna!
Closing 8/1
I'm talking about goal-setting over at Adventures in Children's and YA Publishing, and how to make your goals work for you and get you published. Oh, and you could also win a signed copy of SKYLARK just by commenting!
Closing 8/18
Want to listen to some of the music that helped inspire SKYLARK? Check out this episode of Playlist Monday over at We Fancy Books, and enter to win a SKYLARK swag pack while you're at it.
Closing 8/19
Read an excerpt from the very first draft of SKYLARK (then called THE IRON WOOD) over at Badass Bookie, and enter to win a signed hardcover!