kat zhang

Sep 23, 2012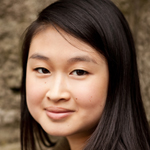 Kat Zhang
is an avid traveler, and after a childhood spent living in one book after another, she now builds stories for other people to visit. An English major at Vanderbilt University, she spends her free time performing Spoken Word poetry, raiding local bookstores, and plotting where to travel next. 
What's Left of Me–
about a girl with two souls
–
is her first novel and will be released by HarperCollins on 9/18/2012. She is represented by Emmanuelle Morgen of Stonesong. You can read about her travels, literary and otherwise, on her 
website 
or check her out on 
Twitter
.
A Note From Meg
Welcome to my new recurring feature, "In Search of the Write Space!" In this series authors share pictures of their work spaces, giving us all a little glimpse into their creative lives. If you're new to the series, be sure to check out last week's guest, Sarah J. Maas, for a chance to win her debut, THRONE OF GLASS! This week we're joined by Kat Zhang, author of WHAT'S LEFT OF ME, and college student extraordinaire. She'll take us through what it's like trying to carve out a creative space when you're living in a dorm room!
The Tour
What's Left of Me
by Kat Zhang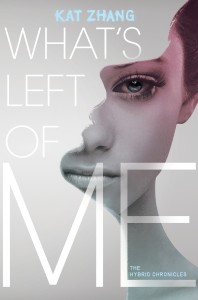 I should not exist. But I do.
Eva and Addie started out the same way as everyone else—two souls woven together in one body, taking turns controlling their movements as they learned how to walk, how to sing, how to dance. But as they grew, so did the worried whispers. Why aren't they settling? Why isn't one of them fading? The doctors ran tests, the neighbors shied away, and their parents begged for more time. Finally Addie was pronounced healthy and Eva was declared gone. Except, she wasn't…
For the past three years, Eva has clung to the remnants of her life. Only Addie knows she's still there, trapped inside their body. Then one day, they discover there may be a way for Eva to move again. The risks are unimaginable-hybrids are considered a threat to society, so if they are caught, Addie and Eva will be locked away with the others. And yet… for a chance to smile, to twirl, to speak, Eva will do anything.
---
I'm giving away one advanced reader copy of WHAT'S LEFT OF ME that has been SIGNED by Kat herself! Entries are open to US residents only. Enter using the Rafflecopter form below, and be sure to check out the various ways you can earn extra entries. If you're a Pinterest user, you can score big on the extra entries scale!
---
"In Search of the Write Space" is an ongoing feature at meaganspooner.com that showcases authors through the spaces they carve out for creativity. You can find out more about the feature, and see a list of past guests, by clicking here.
If you or someone you represent would like to participate in "Write Space," check out my policies and fill out the application form here!

Uncategorized
---