starbound trilogy

Jul 17, 2014
If you're just hearing about my international Reader Appreciation Giveaway for the first time, don't worry! It's not even halfway over yet. We've had two our of the four weekly drawings, whose winners have chosen a signed copy of Skylark and a signed copy of Lark Ascending, and the grand prize (a package of ALL the above books, including the advance reader copy of This Shattered World) is still open. Winners for that will be drawn at the very end of the month.
Remember that while newsletter subscriptions still count for the most entry points, you can reblog the original post and the tweet linked there up to once a day, and each signal-boost increases your odds. Both winners so far were newsletter subscribers that were also signal-boosting!
---

Jul 07, 2014
The newsletter I share with amiekaufman went out this morning. Over the months we've had numerous reports of subscribers only occasionally receiving the newsletter, and this month I'm going to do my best to troubleshoot that. To do so, I need YOUR help!
So if you were subscribed as of 11am EST today, July 7, but you didn't get this morning's newsletter, the first thing to do is search your spam folder. If you find our email in your spam folder, try adding us (starboundtrilogy [at] gmail [dot] com) to your contacts or address book so that your email client knows we're a safe sender.
If you didn't get the newsletter AND you can't find it in your spam/junk folder, and if you're willing to help me troubleshoot this issue with Mailchimp, please email me at the starboundtrilogy address above. Thanks, guys!

blog
,
mailchimp
---

Dec 27, 2013
I'm harder on female characters than I am on male characters.:
I came to this realization while reading "These Broken Stars." If you haven't read my review of the book, know this…I LOVED IT, but not at first. When the characters first crash landed on the planet where the story unfolds, I must admit that I was annoyed. With Lilac.

Lilac was born of…
This is pretty cool… one reader's reaction to THESE BROKEN STARS was to realize that she's a lot quicker to judge female characters for showing weakness than male characters, and come to love a character she'd originally hated.
It's funny, because I had to constantly resist the urge to make Lilac more competent, to give her secret (and wildly out of character) survival skills so that she wouldn't be useless in the beginning, to make her totally wow Tarver with her awesome specialness. Amie (who, by the way, never once lost faith in Lilac) can vouch for the fact that I'd occasionally go "I can't do this, I have to give her a crossbow!"
I loved Lilac, and wanted readers to love her too… and that's the easiest, cheatiest way to make a reader like a character. It's Fiction-Writing 101. Make the character good at something, and readers will like him or her. But creating a potentially unlikable character who transforms into someone likable… that's what I wanted to do.
I knew that many (if not most) readers would judge her for her failings in the first 1/3 of the book. I knew that there were going to be plenty of people who'd make their decision about her character and stick to it to the end. And that was a really tough choice, believe me, and one I may not have stuck to without the support of early readers. (I'm not nearly brave enough by myself.) 
Willingly sacrificing some readers in order to provide others the arc you find more compelling is… rough. It involves committing to a level of trust in your readers that takes its toll on your confidence, especially when you can see an easier way out. 
But that's actually what has kind of amazed me since THESE BROKEN STARS came out. Yes, you see people saying things like "OMG I just want to SLAP Lilac!" in that first third. And, of course, there are people out there, I'm sure, who hate her, hate the book, etc. There always are. But I've been hearing from more and more readers about how much she grew on them and how much she came to represent for them. In a way I value these transformations of reader opinion even more than the people who say they liked her from the start (though obviously, that makes me glee too!)
As an author there's absolutely no feeling like doing something that was really, really hard for you to do… and then having readers get it. It's like a mind-meld. For a few hundred pages, those readers and the author, no matter how much time and distance separate them, are thinking the same thoughts and experiencing the same things.
Which is its own kind of magic.
---

Dec 16, 2013
The increase in requests for THESE BROKEN STARS swag has fiiiinally made me get my act into gear and open a new PO box. Hooray!
So! Once more my deal with you guys is open: send me a SASE and I'll send you goodies. (If you don't know what a SASE is, click here. Very important part of the process.) Signed bookmarks, post cards, and, if you've written a letter, you'll get a reply from me too. I do my absolute best to answer everyone!
For my address, click here. Remember, do not send me actual books to sign, as the PO box isn't big enough to hold them—and you will get them back unsigned (or not at all, I'm a bit unclear on that!).
Please note that we do NOT have signed bookplates for THESE BROKEN STARS. In order to get signed copies, right now, you will need to order them from Malaprops, which has the added bonus that you'll get a signed poster, too! 
I do, however, have bookplates for the SKYLARK trilogy available, so I am happy to send you as many of those as you require!
Unfortunately, posters and necklaces are not included in this deal… they cost too much to ship, and our supply is too limited! Keep an eye out for contests, on those.
<3

blog
,
free stuff
---

Dec 14, 2013
So I got a question in my inbox that is chock full of spoilers, so I can't answer it the traditional way. I'd still like to address the sentiment, though, so I'm going to block out the spoilery sections to make it safe for general consumption.
Why didn't you explain what happened to [character] more? Now we don't … even know if it's a happy ending or not! I loved this book up until you did that. Tell me whether I'm suposed to be happy or sad!!
Well, first of all, I will say this: the thing, the event, the twist to which you are referring, is something that definitely divides our audience. Mostly we've had great feedback about it, which is lovely, to see people experiencing reading what we experienced writing it. We do occasionally get readers with your reaction, and that's fine too. You're allowed to feel however you feel about a book, just as authors are allowed to make whatever choices about their books that feel right to them as artists.
But secondly, and most importantly, this is science fiction. True science fiction asks questions of its readers. What does it mean to be human? How do we fit within this universe? What makes us different? What makes us the same? And while sometimes SF answers those questions, more often than not it leaves it up to you, the reader.
Science fiction WANTS you to struggle, and to ask questions, and to think about what you're reading. If all books were easy, we'd never learn anything or change or be affected by what we read. We wanted people to ask the very questions you're asking about [character]. It's part of the experience.
Science fiction is very rarely black and white. If you want books that are easily categorized as "happily ever after" or not, if you want a book that spells out exactly how you're "supposed" to feel, you might be reading the wrong genre.
So I'll leave you with this: what do YOU think it means for [character]? Forget the words on the page, the black and white… does it feel like a happy ending to you? Because whatever you're feeling… that's what you're supposed to feel. There's no right or wrong response to a book, there's only what you feel.
---

Oct 29, 2013
Hey guys! As some of you know, I have a newsletter with my fabulous co-author, Amie Kaufman. On it we do share news about our books, but we also include articles about the industry, interviews with other professionals like editors, agents and other authors, and behind the scenes glimpses. This month, though, we're going to have an absolute doozy of a newsletter. So we wanted to let you know, in case you wanted to subscribe and get the cool stuff!
Firstly, we are going to be sharing the first ten minutes of the THESE BROKEN STARS audio book, from Listening Library, with our subscribers! Guys, let me tell you, this is like no audio book I've heard before. I'm not just saying that because it's mine—it really is unique. They hired not one, not two, but THREE narrators–one for Lilac, one for Tarver, and one for the interrogator between scenes. And the narrator for Tarver, Johnathan McClain, emailed us to let us know how much fun he had, and told us that he actually got to be in the recording booth with the interrogator during those scenes, and that it was more like a play than a narration. COOL, right?
Secondly, and perhaps the only thing even more exciting than the audiobook sample, is that we are announcing the title of book two in the Starbound Trilogy! (Plus, a little tidbit as to what the book will be about.) It's been a closely-guarded secret for over a year (yes, we knew the title even then) but we've finally gotten the go-ahead to share it. So, tune in for the newsletter next week. As promised, it'll be a doozy.

Uncategorized
---

Jul 05, 2013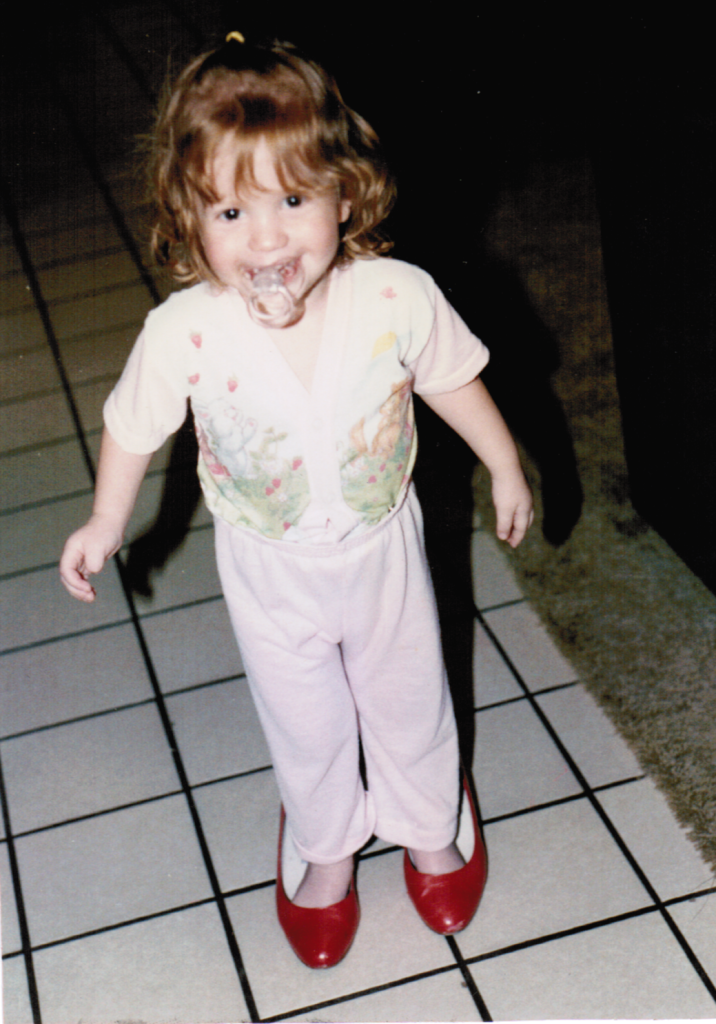 Before you ask, yes. It's true. That fashion-challenged child to the left is, in fact, me. Wasn't I cute? Man, what happened there?
As those who have been following me for a while may know, I tend to celebrate my birthday on July 5th by giving stuff away. It started years ago, before I was published, with giving away Book Depository orders. It's a tradition I hope to continue long into the future! It's so much fun, and now that I can give away my OWN books, it's even better. Well, that time has come around once more, so put on your party hats and join me in a celebration! (Read more…)

Uncategorized
---