Wisdomous Wednesday: Try Everything

Jun 01, 2011

Uncategorized

36 comments
One of my new goals moving forward is to become a more consistent blogger–I tend to let the blog grow cobwebs far too often! So as step one, I'm starting a weekly feature called (oh-so-creatively) "Wisdomous Wednesdays," wherein I will share tidbits I've gleaned over the years about writing. It's a bit cheeky, as they'd say in my other homeland of Australia, given that I barely know what I'm doing myself on any given day, but hey. If we can't pretend to be wisdomous now and then, then why are we writers? I can only share what works for me, but if even one other writer out there finds something in here that's useful, then I say huzzah!
There are about as many different approaches to writing as there are fish in the sea. But I've learned that the best way to grow as a writer is to learn from others in the same boat, and cast a wide, open-minded net for their ideas–which brings me to my first ever wisdomous tip:
Be willing to try anything.
For years I heard the advice from writers that if you want to be a professional, write every day. I always scoffed at this. I write when the inspiration strikes me, I always thought. When I'm in the mood. When the Muse visits. It wasn't until last year that I grew desperate enough to try out that advice, and set myself a daily goal. The result was astounding–not only did I finish my first real novel, but it completely changed my approach to writing.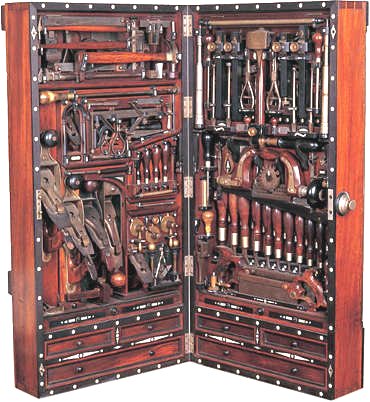 Jeanne Cavelos, the director and principle lecturer at the life-changing Odyssey Writing Workshop, said once in a lecture that when it comes to writing we ought to try everything once, whether we think it's good advice or not. The worst that will happen is you'll write something atrocious and toss it out and never look at it again. What have you lost? A few minutes or hours of your time? But what you stand to gain is so much more valuable: new tools for your arsenal, that you otherwise would never have even recognized as useful. And you'll struggle to improve and update your craft if you're not improving and updating your tools.
It's always the things you never think will be helpful that end up surprising you the most. So go ahead and throw the whole kitchen sink in there. If all you get is one new way of doing things, that's one new way you didn't have before.
Anyone else find tips from other writers that worked better than you expected?
Some great weekly tip series:
Literary Rambles' Tip Tuesday
Amie Kaufman's Writing Three Ways
36 Responses to "Wisdomous Wednesday: Try Everything"