Wisdomous Wednesday: Write Aloud

Jun 24, 2011

Uncategorized

28 comments
Wisdomous Wednesday is a weekly series of posts with advice about writing ranging from craft to navigation through the publishing world. If you have some wisdomous thoughts you'd like to share here, don't hesitate to contact me. I love advice from other writers!
So, turns out I'm pretty incompetent at new to WordPress's post scheduler thingy. It worked for me for two weeks and then the first time I started to get comfortable, turns out I scheduled it but didn't SCHEDULE IT (there are like two steps to this process, guys, it's pretty complex) so it didn't post. So, uh, today's Wednesday post is actually showing up on Friday. Just pretend with me that it's two days ago, and we'll all be happier for it.
Have you ever read a piece of dialogue (especially in YA!) and just cringed because you know  no self-respecting teenager would ever actually say "Dude man, that is wicked off the hizzook!" except maybe on like ABC Family or the WB (or the CW or whatever it is now, can you tell I haven't watched it since Buffy)? Some pretty common advice to writers is that they should try reading their work aloud, because you'll often find those bits of dialogue that seemed okay when you wrote it, but sound heinous when actually spoken.
I only mention this because that's not actually related to today's tip whatsoever. Except that you will also feel pretty ridiculous doing it.
Write Aloud
As my critique partner Amie can attest, I talk to myself while I write. I'm pretty sure she's the only person who's been in the room with me for extended periods of time while I've been writing. I talk to myself, I make faces, I twitch and shift positions and inspect my hands and feet and make tapping noises and basically am a one-woman show. This is because I find it amazingly helpful while drafting to somewhat act out the scenes I'm writing, because often I'm not sure what a realistic or impactful response is to what's going on. And I find that I actually get ideas I never would have gotten, for new directions in the dialogue, or ways to describe reactions that avoid cliches like "Tears welled up in my eyes" or "my throat closed up" or "I bit my lip in frustration."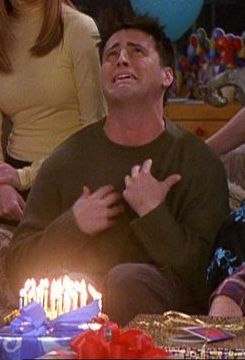 So you know that inner diva? Come on, you know. You don't have to be a drama geek (cough, like me, cough) to have one. You know that inner diva, who only comes out when no one's watching? That acting talent that you KNOW would win you an Oscar if only you could summon it when other people are around? Channel it! Sometime when you're alone in the house (or alone in the room) while writing a particularly difficult scene, just let loose and see what happens if you actually act it out. Don't stop to write each line, just talk to yourself and see what comes naturally. Yeah, you'll feel ridiculous, and hey, maybe nothing will happen and you'll just think "Okay, so she's nuts." But every so often doing this comes up with a gem.
I think studying pretty much anything ends up being helpful to a writer in some way, but I think that studying drama is particularly useful. That's a topic for a whole separate post, really (omg Stanislavski, etc.!) but method acting–really inhabiting the skin of a character, living what they live, eating what they eat, feeling what they feel–is pretty sweet. So try method writing–don't just let your characters live in your head, try living in your character for a bit. Somewhere in between wailing to an empty room and shame-facedly cleaning up your runny mascara you'll figure out exactly what made your character cry.
Out of curiosity, what's the weirdest thing you guys do while writing?
28 Responses to "Wisdomous Wednesday: Write Aloud"