Ask A Question (#5): What part of the writing process do you find most difficult?

Apr 22, 2013

Uncategorized

1 comment
Katelyn L. asked, "What part of the writing process do you find most difficult? For example, world building, character developments, editing, etc."
Each aspect of writing has its challenges for me, and they crop up unexpectedly. I might be as familiar with a given character as I am with my own family, and one day just suddenly struggle to get through a scene with her. Or I might just be ripping along at a good pace and then suddenly hit a huge plot hole I never saw coming and sit there for four hours trying to figure out how that happened. Maybe I shouldn't admit this, but for me, it's not that any one thing has a tendency to go wrong… it's that anything could go wrong at any time!
I actually did used to really struggle with action scenes, because I was afraid of committing to them and then not really pulling them off. Sometimes my short stories would read like a classic Greek play, where all this dialogue and character building would happen "on stage" and then the real action would sort of happen off-camera and we'd be watching the characters dealing with the aftermath. It became such a habit that I still occasionally catch myself doing it–not because I can't or even don't want to write the action scene, but because I was so used to doing things that way for so long.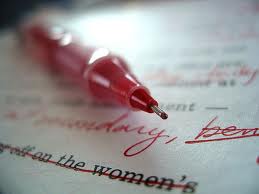 But writing, as a skill, is like any skill. You have to DO it to get better at it, like working a specific set of muscles to strengthen them. I think the best way to strengthen your craft if you do have a specific aspect of writing if you DO consistently struggle with is to deliberately force yourself to exercise it. I think a lot of writers will think, either consciously or subconsciously, "I'm not great at writing action scenes, so I'll make sure I sort of cleverly write around the action here so no one notices." But really, what you should be doing is writing action scene after action scene until you figure out how to do it. If you struggle with dialogue, try writing some scenes depicting a recording of an interrogation, and there are no actions or dialogue tags, and all you've GOT is the dialogue itself.
And for overall process from start-of-idea to published book? Revision. Revision, for me, is SO much harder than drafting!
---
Do you have a question you'd like me to answer about books, publishing, or anything else? Ask it here, and enter my monthly drawing to win a prize pack of signed swag!
---
To see more questions I've answered, click here.
One Response to "Ask A Question (#5): What part of the writing process do you find most difficult?"