agent

Aug 10, 2012
You guys may have noticed I've been a bit quiet lately. Well, there's a lot of reasons for that. The biggest one is that this happened last week: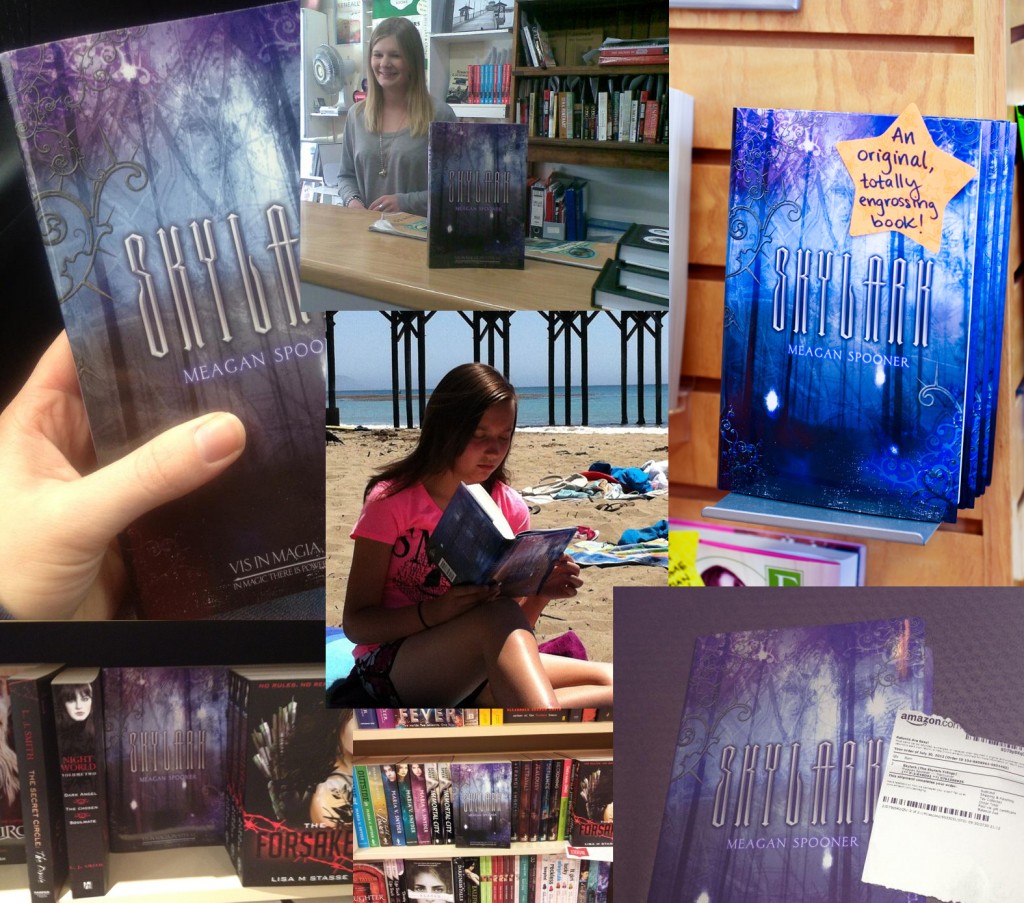 SKYLARK is in stores now! (Read more…)
---

Jul 02, 2011
I feel like I've been sitting on this FOREVER, but in reality it's only been a couple of weeks. My friend and writing partner Amie Kaufman is back from her vacation and has some amazing news to share, and you all need to go visit her blog RIGHT NOW to read it!
She's signed with Tracey Adams of Adams Literary!!
---

May 23, 2011
Almost exactly one year ago, I got on a plane to fly to Australia. I had about 20,000 words of a new book, a lot of emotional baggage, and a metric ton of doubts. Not much to go on, really, but I knew I had to get moving on my dream of being a writer or I'd be waiting for something to happen to me forever.
---

Jan 22, 2011
Hello, friends!  I've been pretty quiet lately, given the chaos on my side of things.  Lots of travel, lots of revision work, lots of meetups with people.  I'm now back in the U.S. for a couple weeks, although little has changed except that there are cats underfoot instead of a dog, and I sit at my computer in sweatpants and sweaters and fingerless gloves instead of shorts and a tank top.
I'm battling some sort of illness that the airplane inflicted upon me, while trying to do revisions.  I tend to get a bit loopy when I get sick, so the result is that I keep fixating on certain passages and changing them over and over again, only to come back the next day, read what I wrote, and go "Huh?"  It isn't the most efficient system, but I'm getting it done, and I think learning to work while sick is a pretty valuable skill for a writer.  It's easy to say "Meh, not in the mood, I'll do it later," but if you've got daily word goals or deadlines or whatever you use to track progress, it's easy to let one day of sick turn into five, at which point you've lost your momentum.
---

Jan 06, 2011
Hey guys!  My awesome friend Caroline has posted an interview with me over at her blog, Adventures in Space.  I met Caroline a couple of months ago while I was doing agent research.  It turns out we live really nearby, when I'm in the U.S.–so it figures that we'd meet when I'm living half a world away!
Caroline gave me a ton of advice while I was querying, so I was really excited when she asked if I'd share a bit about my experiences.
The interview is a "How I Got My Agent" story, but it focuses on what to do when you have multiple offers of representation.  I was caught by surprise when I was in that situation, so I'm hoping by sharing my experiences with it, it'll help people to make that choice when they get there!
---

Jan 05, 2011
Welcome to my brand new website! My friend and web designer extraordinaire, Kim Nguyen, is behind the design. Be sure to update any readers you use, because I'm not going to be blogging on my Livejournal account anymore.
What do you all think of the new design? Do you have any suggestions for content that you'd like to see? Let me know in the comments!
---

Dec 24, 2010
To help explain the complete radio silence on my part lately, I have some good news and some bad news. We'll start with the bad news: I've had to stop working on HUNTED. I wrote the first 30,000 words of the book in just a bit over two weeks, and have been having so much fun with it. But I'm stopping for a good reason, so that assuages my guilt somewhat.
The reason, you ask? Well…
---

Nov 29, 2010
It's a weird feeling, starting a new book while querying the previous one. Part of this is because I'm new to querying in general, and that is weird in and of itself–but the biggest strangeness is having my brain split between two projects. I've never been someone who can read multiple books at once, and certainly not someone who can write multiple books at once. I have to work on One Thing, and then if I need to stop and do something else, it's very clear in my mind that I am officially pausing work on this One Thing and starting up on something else.
It remains to be seen how long I will stay sane. So far, so good. Although my housemates may argue otherwise, they don't realize just how much worse it could get. (Cue dramatic music. Dun dun DUUUUHHHHN.)
Anyway, I thought I'd share some helpful information and pro tips garnered from my very first week of submitting queries, for anyone who might find themselves in a similar position in the future.
---

Nov 16, 2010
With all my book/vacation posting I haven't been talking much about writing. So I'll pause today to do that, and be back on the books I'm reading soon.
When I left for vacation I resolved not to do anything writing-y while I was gone, with the exception of catching up on blog reading when I had the internet access to do it. That lasted a good five or six days, at which point I received the result of a contest a while back in the form of some really fantastic feedback from an agent on the first three chapters of the manuscript. The strangest thing was that it wasn't anything I hadn't realized about my own manuscript–some of you may recall my the-beginning-sucks-but-I-don't-know-how-to-fix-it angst–but the way she explained it suddenly just made everything click. Within 24 hours I had a new idea for the opening of my book, one I was finally excited about.
---