THESE BROKEN STARS Pre-Order Campaign!

Nov 14, 2013

Uncategorized

4 comments
Ever since we revealed the cover of THESE BROKEN STARS back in February, you guys have been telling us how much you covet it. (Don't worry, we do too. We are super grateful to our cover designer, Whitney Manger, and our photographer, Tom Corbett!) Well, we've been passing along your praise and wishes to our publisher, and because they're awesome, they listened!
Introducing: the THESE BROKEN STARS poster!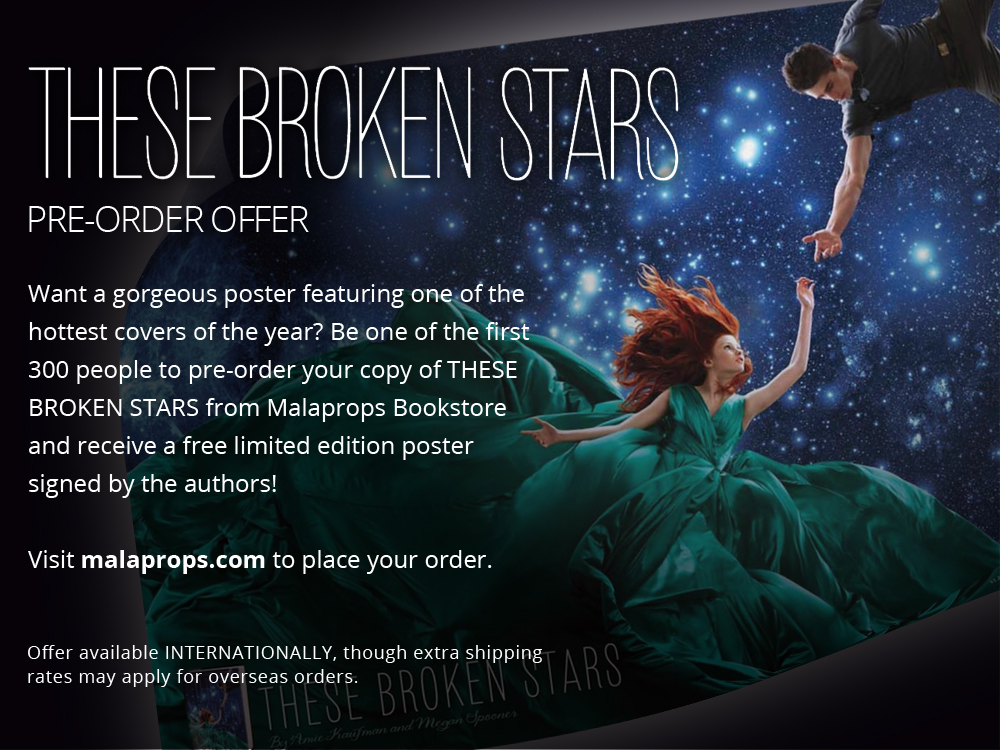 I KNOW, RIGHT? We wanted to make sure that these beauties got into the hands of the people who were truly psyched for the book, so Hyperion partnered up with my local independent bookstore, Malaprops, in Asheville, NC. Until supplies run out, Malaprops is offering a FREE poster along with your pre-order of THESE BROKEN STARS. They'll mail you a signed book and the poster on release day! That way you can support this book, support independent bookstores, AND wind up with gorgeousness to hang on your wall. WIN. And right now, this is the only way to snag one of these posters.
The available posters are limited and running out fast, so if you want one, grab it quick!
And we could use YOUR help spreading the word! Share this banner on your blogs, on twitter, tumblr, pinterest–anywhere you can think of. We'd love the help, so we can make this campaign a success. We want to be able to do this in the future with future books!
---
PS: We know many of you have already pre-ordered our book, and we cannot tell you how grateful we are! If you've already pre-ordered from an online retailer like Amazon or Book Depository, but you also want to get the limited edition poster, you've got a couple of options:
Get a second copy of the book and give it to a friend or family member for a holiday present! Who doesn't love book presents? (But keep the poster for yourself. You know you want to.)
If you're a blogger, use a second copy for a giveaway. You can even contact us for an interview to go along with it, though we're booked up for the rest of the year. Just let us know that you're getting a second copy for a giveaway, and we'll give you priority when 2014 rolls around and we're open for interview-y business again!
If you've already pre-ordered from your local independent bookstore, do NOT cancel your pre-order there, please!
 We're doing this to support ALL indies, not take business away from one to give to another! What you can do instead is either scan or take a picture of your receipt and send it to us at 
starboundtrilogy@gmail.com
, and we'll personally send you some signed swag and 
necklace-y goodies
 in the mail. The receipt must be dated before today, November 13, 2013. Any purchase after this point won't count, unless it's from our lovely 
Malaprops
.
---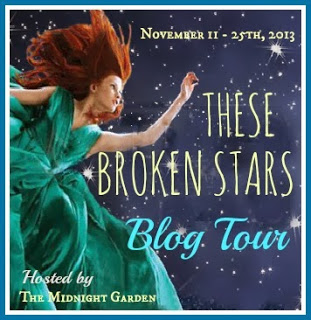 If you haven't yet, be sure to check out the
THESE BROKEN STARS blog tour
, currently ON and being hosted by Wendy Darling at the Midnight Garden! Sneak peeks, giveaways, interviews, and more.
4 Responses to "THESE BROKEN STARS Pre-Order Campaign!"