Ask a Question (#3): How did you come up with Nix's character?

Apr 15, 2013

Uncategorized

3 comments
This question deals with a character in SKYLARK–there are some mild spoilerish parts in this answer! Nothing major gets revealed, but if you're as anti-spoiler as I am and you haven't read SKYLARK, be warned!
---
Carolina S. asked, "Nix is positively my favorite character! How did you come up with him?"
It's funny–Nix is genderless, but almost everyone uses a gendered pronoun when they talk about the character, because we're not used to saying "it" to describe sentient, animate creatures. More people seem to call it a "him," but I've definitely come across plenty of people who call Nix a "her!"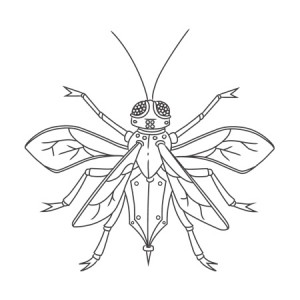 For those who aren't familiar with SKYLARK, Nix is a pixie–which, in Lark's world, is the name for little mechanical insect-like creatures that the Institute uses to spy on its citizens. When Lark escapes, Nix tracks her, and after she incapacitates it, it's forced to become her reluctant ally.
Nix started out as sheer necessity. As I was writing the first draft of SKYLARK (which was then called THE IRON WOOD, but that's another story) I was just ripping along at a great pace until Lark escaped the city and was out in the wilderness. Completely alone. I realized she had no one to talk to and no one to interact with, and while there are a lot of amazing books out there which handle this situation beautifully, it wasn't actually what I was going for. So I decided she needed a companion (aside from Oren, who she meets later).
I thought about inserting a friend who she takes from the city with her, but Lark is a lonely, isolated girl who feels at odds with her life and her city, and giving her a close friend really changed that dynamic. I thought about giving her a pet that learns to speak once exposed to the magic beyond the Wall, but a talking animal felt a little young for the comparative darkness of the story. I even thought about magically animating the paper bird her brother Basil made for her. But the thing is, I fell in love with the pixies when I was creating Lark's home city, and regretted having to leave them behind when Lark escaped. I felt I hadn't gotten to play with them enough.
So, Nix happened. Lark struggles so much with issues of trust and betrayal in SKYLARK that I knew I wanted her new ally to be a morally ambiguous one. You don't know whether Nix is really on her side or not–whether it's just trying to manipulate her back into the arms of the Institute, or whether it's actually coming to care about her, in its own unique way.
I've always loved gray-area characters, both as a reader and a writer. But specifically, with the "morally ambiguous familiar" character, I can pinpoint exactly what made me fall in love with it as a trope. If you haven't read SABRIEL by Garth Nix, then you need to drop whatever you're doing and read it NOW. Sabriel's sidekick, the mysterious cat creature named Mogget, is probably one of my favorite non-human characters EVER. In the end Nix and Mogget are very different in many ways, but they certainly do share common elements. I think all writers take inspiration from the things they read, so I'm not ashamed to admit I have influences!
(And no, the name "Nix" did not come from "Garth Nix." I chose the name for a variety of reasons–it came from "nixie," a mythological shapeshifting creature, combined with the meaning of "nix" as "nothing/empty." That said, I can't speak for my subconscious. Because Garth Nix has been a favorite author of mine since I was a teenager!)
---
Do you have a question you'd like me to answer about books, publishing, or anything else? Ask it here, and enter my monthly drawing to win a prize pack of signed swag!
---
To see more questions I've answered, click here.
3 Responses to "Ask a Question (#3): How did you come up with Nix's character?"