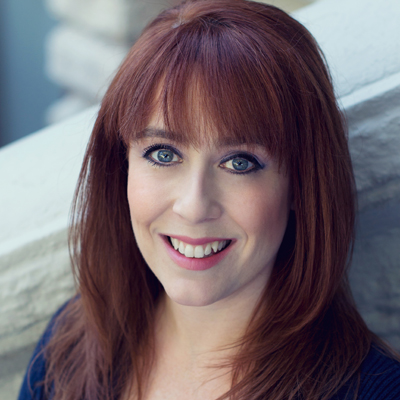 Amy Christine Parker earned her degree in elementary education at Southeastern University in Lakeland, Florida, and then proceeded to try out many different jobs, including collectible doll maker, fondue waitress, and inner-city schoolteacher. It wasn't until she became a mom and began making up bedtime stories for her children that she finally realized what she was meant to do. Now Amy writes full-time from her home near Tampa, Florida, where she lives with her husband, their two daughters, and one ridiculously fat cat. Her first novel, GATED, debuts with Random House Children's August 6, 2013. Visit her at amychristineparker.blogspot.com.
A Note From Meg
Welcome to "In Search of the Write Space," a recurring feature on my blog where authors share pictures of their work spaces, giving us all a little glimpse into their creative lives. Check back every week for new author spaces and new chances to win awesome books and swag! If you want to make sure you never miss another Write Space post, you can subscribe via email by clicking here.
Be sure to check out last week's posts from from Angie Smibert and Elisa Nader for more chances to win signed books!
This week I have as my guest Amy Christine Parker, author of the contemporary thriller GATED here to show you all around her space! I'm particularly enamored of her writing companion… he reminds me of my own! Be sure to check out the international giveaway at the end of the post, where you could win a signed copy of GATED!
The Tour
Gated
by Amy Christine Parker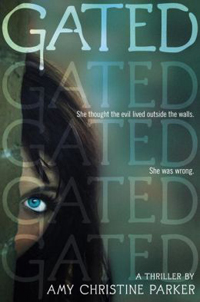 Do the gates keep the unchosen out or the chosen in?
In Mandrodage Meadows, life seems perfect. The members of this isolated suburban community have thrived under Pioneer, the charismatic leader who saved them from their sad, damaged lives. Lyla Hamilton and her parents are original members of the flock. They moved here following the 9/11 terrorist attacks, looking to escape the evil in the world. Now seventeen, Lyla knows certain facts are not to be questioned:
Pioneer is her leader.
Will is her Intended.
The end of the world is near.
Like Noah before him, Pioneer has been told of the imminent destruction of humanity. He says his chosen must arm themselves to fight off the unchosen people, who will surely seek refuge in the compound's underground fortress–the Silo.
Lyla loves her family and friends, but given the choice, she prefers painting to target practice. And lately she'd rather think about a certain boy outside the compound than plan for married life in the Silo with Will. But with the end of days drawing near, she will have to pick up a gun, take a side, and let everyone know where she stands.
---
Giveaway!
Thanks to Amy's generosity, I have a lovely signed copy of GATED to give away to one lucky Write Space fan. This contest is open INTERNATIONALLY to entrants over the age of 13. To enter, use the Rafflecopter below!
a Rafflecopter giveaway
"In Search of the Write Space" is an ongoing feature at meaganspooner.com that showcases authors through the spaces they carve out for creativity. You can find out more about the feature, and see a list of past guests, by clicking here.
If you or someone you represent would like to participate in "Write Space," check out my policies and fill out the application form here!