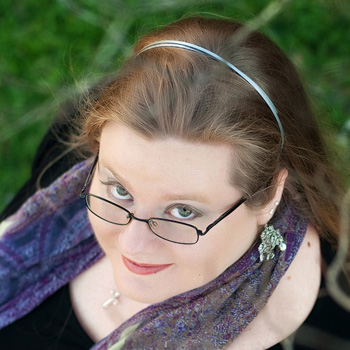 Beth Revis is the author of the NY Times Bestselling Across the Universe series, published by Razorbill/Penguin in the US and available in 17 countries. The first book in the trilogy, Across the Universe, is a "cunningly executed thriller" according to Booklist, and the second book, A Million Suns, was hailed by the LA Times as "a fast-paced, action-packed follow-up." The final book of the trilogy, Shades of Earth, will be released in early 2013.
A Note From Meg
Welcome to "In Search of the Write Space," a recurring feature on my blog where authors share pictures of their work spaces, giving us all a little glimpse into their creative lives. I've got an amazing line-up of authors to start off the new year, so be sure to check back every week for new contests and galleries of author spaces! And be sure to check out last week's post from Megan Shepherd for a chance to win her drop-dead amazing debut THE MADMAN'S DAUGHTER!
This week, I've got one of my favorite people from the YA writing scene, Beth Revis! Not only are her books pretty much phenomenal, but she's just totally awesome. We're like fandom sisters. I require ALL HER STUFF. Especially the stuffed TARDIS. Anyway, I'll turn the mic over to her before I babble on too long here, but before I go: remember to check down at the end of the post, where you'll have a chance to win signed copies of her ENTIRE TRILOGY. Yeah, that's right, guys. Three books. All signed. All of them. Just do it, you'll thank me later.
The Tour
Shades of Earth (Across the Universe #3)
by Beth Revis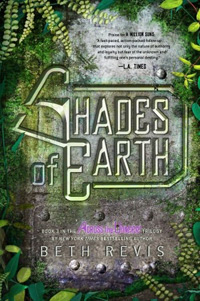 The final book in the  New York Times bestselling trilogy, perfect for fans of Battlestar Galactica and Prometheus!
Amy and Elder have finally left the oppressive walls of the spaceshipGodspeed behind. They're ready to start life afresh–to build a home–on Centauri-Earth, the planet that Amy has traveled 25 trillion miles across the universe to experience.
But this new Earth isn't the paradise Amy had been hoping for. There are giant pterodactyl-like birds, purple flowers with mind-numbing toxins, and mysterious, unexplained ruins that hold more secrets than their stone walls first let on. The biggest secret of all? Godspeed's former passengers aren't alone on this planet. And if they're going to stay, they'll have to fight.
Amy and Elder must race to discover who–or what–else is out there if they are to have any hope of saving their struggling colony and building a future together. They will have to look inward to the very core of what makes them human on this, their most harrowing journey yet. Because if the colony collapses? Then everything they have sacrificed–friends, family, life on Earth–will have been for nothing.
FUELED BY LIES.
RULED BY CHAOS.
ALMOST HOME.
---
Giveaway!
Thanks to Beth, we've got an amazing giveaway for this post! Enter now to win ALL THREE of the Across the Universe series, including the newly released finale, SHADES OF EARTH. What could be better than that? Well, what if they were SIGNED? Yeah, I thought so! Contest is open to US residents over the age of 13. Use the Rafflecopter form below to enter, and be sure to check out the ways you can get extra entries!
a Rafflecopter giveaway
"In Search of the Write Space" is an ongoing feature at meaganspooner.com that showcases authors through the spaces they carve out for creativity. You can find out more about the feature, and see a list of past guests, by clicking here.
If you or someone you represent would like to participate in "Write Space," check out my policies and fill out the application form here!