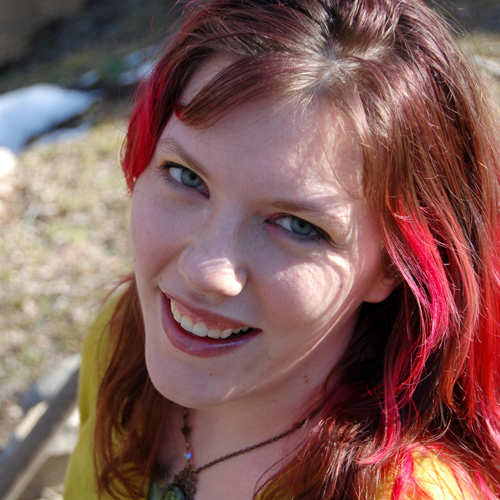 Phoebe North lives in New York State with her cat, her husband, and many licensed novels. She likes to cook, watch Degrassi, sew, take her cat for walks, and, of course, write. Despite many soaked pages, she still loves to read in the bath.
A Note From Meg
Welcome to "In Search of the Write Space," a recurring feature on my blog where authors share pictures of their work spaces, giving us all a little glimpse into their creative lives. I've got an amazing line-up of authors to start off the new year, so be sure to check back every week for new contests and galleries of author spaces! And be sure to check out last week's post from Veronica Rossi for a chance to win the fabulous UNDER THE NEVER SKY sequel, THROUGH THE EVER NIGHT!
This week, I've got Phoebe North, author of the upcoming YA science fiction debut STARGLASS. 2013 is going to be the year of YA science fiction, guys! And I'm super excited to have Phoebe here to share her space. I'll let her take it from here, but be sure to check out the giveaway at the end for a chance to win an ARC of STARGLASS!
The Tour
Starglass
by Phoebe North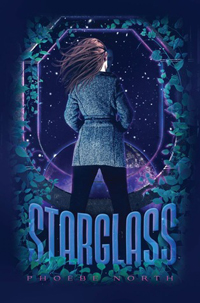 In this futuristic, outer space thriller, Terra has to decide between supporting the rebellion she believes in—and saving the life of the boy she loves.

For generations, those aboard the Asherah have lived within strict rules meant to help them survive the journey from a doomed Earth to their promised land, the planet Zehava–which may or may not be habitable, a question whose imperative grows now, in the dwindling months before touchdown.
Sixteen-year-old Terra's situation is tough. A dead mom. A grieving dad. A bitchy boss, and a betrothed who won't kiss her no matter how bad she wants it. She's doing her best to stay afloat, even when she gets assigned a vocation she has no interest in: botany.
But after Terra witnesses the Captain's guard murder an innocent man, she's drawn into a secret rebellion bent on restoring power to the people. The stakes are higher than anything she could have imagined. When the rebellion gives Terra an all-important mission, she has to decide where her loyalties lie for once and for all. Because she has started to fall for the boy she's been sent to assassinate…
---
Giveaway!
Thanks to Phoebe, I have one advanced reader copy of STARGLASS to give away! Contest is open to US residents over the age of 13. Use the Rafflecopter form below to enter, and be sure to check out the ways you can get extra entries!
a Rafflecopter giveaway
"In Search of the Write Space" is an ongoing feature at meaganspooner.com that showcases authors through the spaces they carve out for creativity. You can find out more about the feature, and see a list of past guests, by clicking here.
If you or someone you represent would like to participate in "Write Space," check out my policies and fill out the application form here!