travel

Feb 01, 2013
It's been a busy couple of months on my end, and I haven't done much updating here outside of the Write Space series. I like looking at other authors' desks (and giving away their books) a lot more than I like talking about what I'm doing, though, so that suits me fine! Be sure to check out the two current contests, where you can win the whole ACROSS THE UNIVERSE series by Beth Revis, and where you can win a signed copy of TIME BETWEEN US by Tamara Ireland Stone.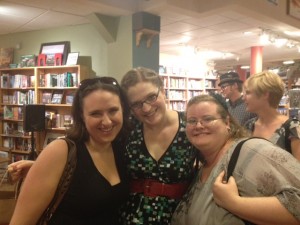 Tomorrow I'm leaving on a mini signing tour, and I hope I'll get to see some of you guys along the way! I'll be hitting up Malaprops in Asheville, NC, Fountain Bookstore in Richmond, VA, Hooray For Books in Alexandria, VA, and Politics and Prose in Washington, D.C. The best part about all of it is that I'm going to be chatting with and signing alongside some absolutely kickass YA authors, including Beth Revis (ACROSS THE UNIVERSE), Megan Shepherd (THE MADMAN'S DAUGHTER), Lenore Appelhans (LEVEL 2), Jodi Meadows (ASUNDER), and Victoria Schwab (THE ARCHIVED).
Click here to see my event schedule over the next week–be sure to come by if you can! Hanging out with other people who love books, whether they be authors, aspiring writers, readers, or just plain quiet folks who like the smell of binding glue… well, that's just plain guaranteed to be a good time. (Read more…)
---

Sep 17, 2012
Well, sorry for the radio silence from this corner of the internet! As some of you may know from my twitter feed, I've been traveling around with co-author extraordinaire Amie. (She just got her plane back to her side of the globe yesterday. I'm pretty inconsolable.)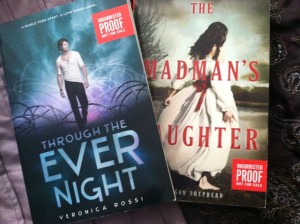 We caught up with our agents at Adams Literary in Charlotte, then headed to Asheville where we met up with the local author ladies there for dinner and chocolate and discussions of serial killers (thanks for the nightmares, Steph). I managed to get my hands on ARCs of THROUGH THE EVER NIGHT and THE MADMAN'S DAUGHTER, and devoured them both. Seriously, they are amazing, folks. Normally I don't feel the urge to brag about things when I read them before they hit the shelves, but I will be shouting about these two books for a good long time. (Read more…)
---

May 15, 2012
Today I head to Africa for two and a half weeks. There's not much I can coherently say about this, because if I try to describe how excited I am I end up just running around in circles until I collide with the wall. Suffice it to say: I'm psyched.
A lot has been going on lately—so much so that I haven't even had time to pay attention to the Africa trip. Prepping for BEA in June, where SKYLARK is one of five YA Buzz Books, has been awesome. I've been getting my first few out and out fan email for SKYLARK, which is even MORE nuts. Trying to set up guest posts and interviews and giveaways for the months leading up to SKYLARK's release is entirely new territory for me. My spectacularly awesome writing partner, Amie Kaufman, and I, have finished our second round of revisions on THESE BROKEN STARS.
And sitting pretty at the top of the list, one of the hardest things I've ever done: finishing the sequel to SKYLARK. (Read more…)
---

Jun 03, 2011
Well, I'm back in the U.S. again. Tada! I'm staying with my parents while I sort out work/apartment/etc. It's definitely an adjustment, learning to work with people around all the time, as in Australia I had perfect quiet and stillness all day while my housemates were at work.
---

May 23, 2011
Almost exactly one year ago, I got on a plane to fly to Australia. I had about 20,000 words of a new book, a lot of emotional baggage, and a metric ton of doubts. Not much to go on, really, but I knew I had to get moving on my dream of being a writer or I'd be waiting for something to happen to me forever.
---

Jan 05, 2011
Welcome to my brand new website! My friend and web designer extraordinaire, Kim Nguyen, is behind the design. Be sure to update any readers you use, because I'm not going to be blogging on my Livejournal account anymore.
What do you all think of the new design? Do you have any suggestions for content that you'd like to see? Let me know in the comments!
---

Nov 12, 2010
Finally, a place with internet again!
As some of you may know, I've been utterly incommunicado the last couple of days. I'm still traveling with my family, and we'd been staying at a bed and breakfast on the Mornington Peninsula in Victoria, Australia. The down side? No internet whatsoever. The upside? About five minutes from all the wineries you could possibly want to visit. This was the view outside our window:
---

Jun 07, 2010
Time to end the radio silence, hooray! This is just a post catching up on what I've been doing the past week. As some of you may know, I've been traveling lately, from the Friday before last on. For a while I was in Santa Barbara with savannahjfoley and bee245 to see sjmaas get married, and I was having way too much fun to post here. The ceremony was beautiful, Santa Barbara was beautiful, and, of course, sjmaas was beyond beautiful.
Then, on Tuesday, I headed for LAX and then on to Melbourne, Australia, which is where I'll be hanging my hat for the next year. lilykaufman and her long-suffering husband met me at the airport and ushered me home to the sweetest little room they've made up for me, and now I'm finally unpacked and all set up. The PC is still in pieces, but I have my netbook and my big keyboard plugged into it, which is all I need to do a ton of writing.
As savannahjfoley and bee245 can vouch, I managed to keep up my writing even in the midst of festivities in Santa Barbara, despite travel, etc. I left for Australia on a Tuesday (U.S. time) and arrived in Australia on Thursday (Oz time) and actually wrote on the plane, during this weird middle time when I had no idea what time or even what day it was, just that I knew I was losing Wednesday at some point so I had better stick 500 words in there at some point.
I'm completely psyched to be back in Australia–as some of you know, I lived there before for about eight months a couple of years ago. It's full of absolutely fantastic people, friends who have greeted me so enthusiastically that it's like I've lived here my whole life. My house is walking distance to the beach, and even though it's winter now I plan to head down there today with my laptop and sit in the cold and write, because right now, my protagonist is wet and cold, and it seems appropriate. I have fingerless gloves created for just this purpose. There's a very charming dog indeed, doing his best to cure me of my lifelong cat-lovingness, and of course, bakeries full of caramel slice waiting to remind me of what I've been missing. Best of all, I'm back living with some of my best friends in the world, and I'm way excited. My vowels are already starting to slip, and I'm finding myself saying "heeya" instead of "here," and asking my housemates if they want some brekky.
It's a little bittersweet too, though. This is the place where I'm going to finish my WIP, once and for all, and start it on queries. I have a loose timetable that I'm following to that end, and somehow it seems much more final and huge when you know it's going to be within the next year. I'm excited about it, but also quite frightened, too. As anyone who's submitted anything, be it a short story or a novel, knows, submitting is this terrible and wonderful flutter in your chest and twist in your stomach. I'm just trying not to think about it. Cart before the horse, etc. I have a long way to go before then, so best just to alt+tab back over to chapter fifteen and get back to work.
But maybe down at the beach.
PS: My word count today is only a loose estimate. My actual running tally is on my PC, which is inaccessible at the moment, and I'm way too lazy to go total it up all over again on the netbook.
---