Thankful

Nov 23, 2011

Uncategorized

3 comments
Man, I have so much to be thankful for this year I don't even know where to start. So much has happened since my post last Thanksgiving. I've signed with an agent, I've sold books, I've moved countries–and yet, I find that I'm most thankful for the people in my life, rather than the events. All the awesome things that have happened over the past year never would've happened without these wonderful people.
Critique partner, co-author—labels can't explain everything Amie does for me. Suffice it to say I wouldn't be here without her. (I'm also totally copying her Thanksgiving blog post, and stealing this picture, to boot. See? She gives me so much.)
My mom, who still cries every time good things happen for me; my dad, who reads everything I write and makes me laugh; my sister, who cheers me on and is always there for me when I need last-minute help on anything. I love you guys.
Where would I be without my agent? It's not a question I particularly enjoy contemplating! Not only is Josh incredibly smart and savvy, he's just an all-around good guy. Patient and long-suffering, to say the least! And I've been getting to know Tracey the past few months as well, and I'm thankful for them both—they make a wonderful team. And I'm so thankful they're on my side.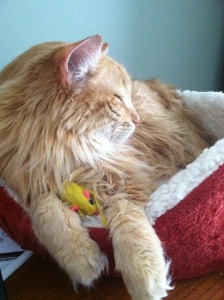 My faithful writing companion, Icarus, who keeps me company from his bed beside my computer—who is sitting here now, snoring purring gently as I type this. After all his health problems this year, I'm most thankful he's here with me.
What are all of you thankful for this year?
3 Responses to "Thankful"