Ask a Question (#7): What's in store for the sequel to THESE BROKEN STARS?

Sep 16, 2013

Uncategorized

3 comments
It's been a long time since I did an "Ask a Question," but Amie and I have been getting this question a LOT, so I wanted to put an answer front and center!
---
Annabel P. (and others) asked, "I just finished reading THESE BROKEN STARS (omg so goodddd) but I'm wondering about the sequel. It says that it's the first in a trilogy, but book one wraps up so well, what's going to happen in book two?"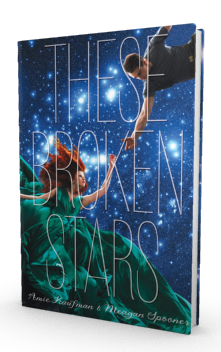 That's extremely perceptive of you! We actually wrote THESE BROKEN STARS to be a standalone novel. The Starbound series is not a traditional trilogy, following the same characters in one linear plot. Each of the three books will focus on a new pair of characters, and their individual stories.
So these books are actually more like companion novels than direct sequels. They all take place in the same universe, and they actually do happen in chronological order. We designed the whole story so that the things that happen in book two couldn't have happened without the things that happen in book one, and so on. So each of the books will build on the one(s) before it, BUT, you can also read them separately with no real drawback except spoilers. (And don't worry… there is a very distinct possibility you might see a familiar face or two in the other books!)
We love trilogies, of course, but we also love being able to read a book and have it be finished and completely satisfying in one shot, too. So with the Starbound series, we've aimed for the best of both worlds!
THESE BROKEN STARS is available for pre-order from your
favorite online or local bookseller. Snag your copy now!
IndieBound | Amazon | Book Depository | Barnes & Noble
---
Do you have a question you'd like me to answer about books, publishing, or anything else? Ask it here, and enter my monthly drawing to win a prize pack of signed swag!
---
To see more questions I've answered, click here.
3 Responses to "Ask a Question (#7): What's in store for the sequel to THESE BROKEN STARS?"