SKYLARK bookplates are in! (And they're awesome.)

Jul 18, 2012

Uncategorized

4 comments
Today on the SKYLARK blog tour I'm over at Cuddlebuggery, doing an interview the likes of which you've never seen before. Check it out now, and enter to win a copy of SKYLARK!
SKYLARK hits stores in two weeks. TWO WEEKS. People have asked me how I'm doing, whether I'm totally panicking or totally excited. And the truth is, I don't really know how I'm doing. Perhaps "in shock" or "in denial" would be closest to the truth. I'm just sort of doing my thing, while in the background this OTHER thing, this bookish thing, this huge thing I can't look at directly, is happening in two weeks.
At any rate, I wanted to celebrate the two-week-away date by showing you guys some SUPER AWESOME SWAG that I just got in, and have been dying to show you all…
SKYLARK Bookplates!
These are the bookplates that you can win as prizes in the SKYLARK swag giveaways, as well as in my own SKY'S THE LIMIT Contest for SKYLARK. And though I do say so myself, they're pretty freaking awesome (click below for a bigger view).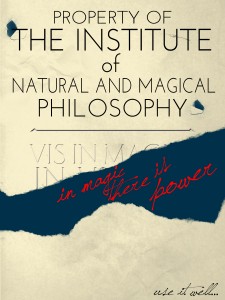 They're designed to look like parchment-colored book plates belonging to the Institute that keeps Lark captive. They read, "PROPERTY OF THE INSTITUTE OF NATURAL AND MAGICAL PHILOSOPHY," and underneath is the Institute's motto: "Vis in magia, in vita vi." But that's been torn away and written over in blood red with the words "In magic there is power"– a translation of part of the motto. Below the tear is space for an autograph, and then the words "Use it well…"
I love the implication here… someone (Lark? Basil? Someone new, ready to fight the Institute?) has defaced the Institute's motto and appropriated it for themselves. Magic is power, after all, whether you're the head of the Institute or an outcast. It's all about how you choose to use it.
Most of all I love how they look in the book itself–it looks exactly like the strip of the label's been torn away, revealing the color of the end sheet underneath.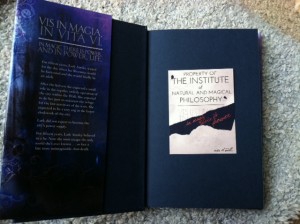 I ordered these from Bookplate Ink. I can't say enough how fantastic they've been to work with. Not only did I work with a real, live person who knew a LOT about book plates, she walked me through the steps I needed to take to make this bookplate work, given the complexity of the design. (How do you make a bookplate match perfectly the color of the endsheets of a book the printer's never even seen?) The product itself is a lot higher-quality than I was expecting–the paper seems durable, and it comes with a peel-off backing and self-adhesive label. So much easier than the bookplates I remember from when I was a kid. Authors, I can highly recommend this company for bookplate swag.
I'm just so, so pleased with how they've turned out, and I can't wait to share them with all of you!
Want to win one of these SKYLARK bookplates? Be sure to enter the SKY'S THE LIMIT Contest for SKYLARK, where everyone who enters wins something!
4 Responses to "SKYLARK bookplates are in! (And they're awesome.)"