swag

Dec 16, 2013
The increase in requests for THESE BROKEN STARS swag has fiiiinally made me get my act into gear and open a new PO box. Hooray!
So! Once more my deal with you guys is open: send me a SASE and I'll send you goodies. (If you don't know what a SASE is, click here. Very important part of the process.) Signed bookmarks, post cards, and, if you've written a letter, you'll get a reply from me too. I do my absolute best to answer everyone!
For my address, click here. Remember, do not send me actual books to sign, as the PO box isn't big enough to hold them—and you will get them back unsigned (or not at all, I'm a bit unclear on that!).
Please note that we do NOT have signed bookplates for THESE BROKEN STARS. In order to get signed copies, right now, you will need to order them from Malaprops, which has the added bonus that you'll get a signed poster, too! 
I do, however, have bookplates for the SKYLARK trilogy available, so I am happy to send you as many of those as you require!
Unfortunately, posters and necklaces are not included in this deal… they cost too much to ship, and our supply is too limited! Keep an eye out for contests, on those.
<3

blog
,
free stuff
---

Oct 14, 2013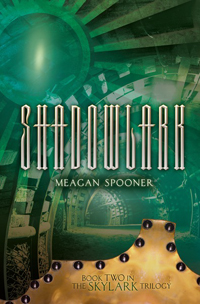 Howdy, all! Now that SHADOWLARK is out in the world, I've decided to take a page from Jodi Meadows' book and spend some time thanking and encouraging the awesome people who review books. Online reviews are vitally important–they help books stand out in an incredibly crowded market, and they help other readers find books they think they'd like.
For the next month, anyone who reviews SHADOWLARK on a booksellers' page will be entered to win the signed Skylark book of their choice OR a pre-order of THESE BROKEN STARS! And everyone* who participates will receive some Skylark and Starbound swaggy goodness in the mail. How's that for a deal? Signed bookmarks, postcards, tattoos, the works!
The grand prize is absolutely open internationally, but only US residents will get the swag in the mail for reviewing. International postage is insane, y'all!
A few rules: 
I'm accepting four different booksellers in this contest: Amazon, Barnes & Noble, Book Depository, and Books a Million. You can enter the contest by reviewing on only one of these sites, but each additional site you hit increases your odds of winning!
You may use the same review on every single site, just copy/pasted. No need to write four different reviews.
Only reviews for SHADOWLARK will enter you in this particular contest. (I.e., SKYLARK reviews will be much loved but not enter you for the drawing/swag.)
Each review must be at least 100 words. This is just to stop one-sentence spam entries. For reference, the first two paragraphs of this blog post are more than 100 words.
Please note that you can say whatever you truly feel about the book! I will not take the content of the review itself into consideration when choosing a winner–the winner will be chosen by random drawing. I'm not asking for glowing raves–only honest opinions can help other readers decide whether they want to give a book a try!
Giveaway!
a Rafflecopter giveaway

*  I've set aside a chunk of fun stuff to send out, and everyone who enters will get some in the mail until I run out. I'm not anticipating running out, but you never know! So move quickly!
---

Sep 23, 2013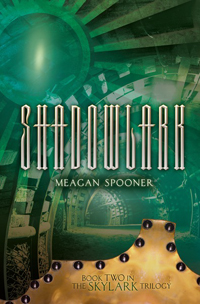 Hey, team! The SHADOWLARK blog tour, arranged by the lovely Jessica at Step Into Fiction, starts todaaaay! What does that mean? Well, every weekday (and one Saturday!) for the next two weeks there'll be another peek at the sequel to SKYLARK, through interviews, guest posts, reviews, and sneak peeks. And in each and every post, you'll have a chance to win a book. On top of those individual chances, there's a grand prize which you can enter for by visiting each of the posts during the tour, scavenger-hunt style.
Sound like fun? Here's the schedule of where SHADOWLARK is going to be over the next two weeks! I'll be updating each link to go directly to the Shadowlark post, so be sure to check back. For now, check out a sneak peek of the beginning of SHADOWLARK over at Xpresso Reads! (Read more…)
---

Sep 18, 2013

Write Space
---

Jul 22, 2013
As s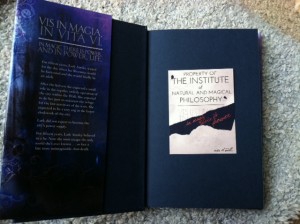 ome of you know, I offer signed bookplates (and I usually add a little extra swag in the form of bookmarks too!) to readers who want them, and write to me with an envelope to send back. As others of you may know from my Twitter feed and my newsletter, I'm moving to North Carolina in a few weeks. What does this mean? Well, I'm going to need to move my P.O. Box address, so I'm going to have to shut this one down. In order to make sure that no one sends me a letter that arrives after I move, I'm shutting down my whole bookplates program until further notice.
So. The short version is that if you were thinking of writing and asking for signed bookplates to go in your copy of SKYLARK (and/or SHADOWLARK when it comes out), speak now or forever hold your peace! Well, probably not forever. I do plan to start up again once I'm settled, but it may be a little while before I get to it. I'm going to leave the address up for the next couple of days, but it'll be gone by the end of the week. (Read more…)
---

May 22, 2013
Are you headed to BookExpo America this year? If so, read on—we have a brand new piece of top-secret THESE BROKEN STARS swag that we're going to debut at BEA this year. We've got an extremely limited number of these, period, and an even smaller number to give away at BEA. We want to reward our online followers, so we're going to give you a SECRET PASSWORD, which, if you find us at BEA and give us the password, you'll get a—
Oh, you want to know what it is? Okay. Yeah, I guess that makes sense. Ready? No, seriously, are you READY? (Read more…)
---

Apr 08, 2013
It's newsletter time–and GIVEAWAY time! Amie Kaufman and I now have a joint newsletter, where you can receive all the latest news on our books, as well as information about upcoming signings and events, writing advice and tips, exclusive contests, and sneak peeks at secret upcoming projects! What's more, by signing up for our newsletter in the next two weeks, you can also enter to win our TOTALLY awesome contest. In the process, you can let us know what YOU want out of your newsletter, and get extra entries!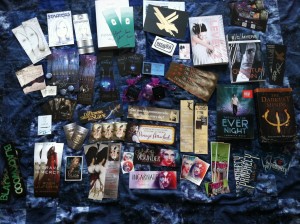 Because we want to hear from YOU, we decided to offer a prize pack of swag and books from over TWENTY authors, not just our own. The winner will receive a package full of signed swag (including bookmarks, postcards, temporary tattoos, jewelry, tea, buttons, author business cards, book plates, magnets, stickers, and more) from over twenty authors, as well as FIVE advance reader copies from my collection, which the winner will be able to choose. Click on the image to enlarge it and see the prizes!
Contest is open INTERNATIONALLY, but due to shipping costs, international winners won't receive the ARCs. (We're so sorry, but the cost is insane!) You will get all the other awesome stuff though!
Click the link below to subscribe, then be sure to come back here in order to enter the contest and tell us what you want in a newsletter!
---

Jul 18, 2012
Today on the SKYLARK blog tour I'm over at Cuddlebuggery, doing an interview the likes of which you've never seen before. Check it out now, and enter to win a copy of SKYLARK!
SKYLARK hits stores in two weeks. TWO WEEKS. People have asked me how I'm doing, whether I'm totally panicking or totally excited. And the truth is, I don't really know how I'm doing. Perhaps "in shock" or "in denial" would be closest to the truth. I'm just sort of doing my thing, while in the background this OTHER thing, this bookish thing, this huge thing I can't look at directly, is happening in two weeks.
At any rate, I wanted to celebrate the two-week-away date by showing you guys some SUPER AWESOME SWAG that I just got in, and have been dying to show you all…
SKYLARK Bookplates!
These are the bookplates that you can win as prizes in the SKYLARK swag giveaways, as well as in my own SKY'S THE LIMIT Contest for SKYLARK. And though I do say so myself, they're pretty freaking awesome (click below for a bigger view).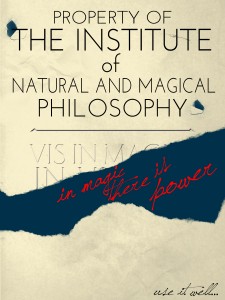 (Read more…)
---

Jul 05, 2012
Today is my birthday. Last year on my birthday I held a contest to celebrate in which I gave away free books. This year, I decided to continue in that tradition… but the difference is, this year I can give away MY OWN BOOK. International folks, be sure to read on—everything except prize levels 2 and 3 are open internationally!
So, without further ado, let me introduce…
The SKY'S THE LIMIT Contest for SKYLARK!
So cheesy it hurts, I know. But I'm excited, and if you keep reading, I think you will be too. This contest was in a big way inspired by the amazingly awesome Beth Revis, and the Epic Contest of Epic that she held for the release of ACROSS THE UNIVERSE. She gave away 100 prizes, some big, some small, and some completely epic.
Well, I wanted to put my own twist on it. What makes this contest unique, you might ask?
What makes it unique is that everyone who enters will win.
---