community

Feb 01, 2013
It's been a busy couple of months on my end, and I haven't done much updating here outside of the Write Space series. I like looking at other authors' desks (and giving away their books) a lot more than I like talking about what I'm doing, though, so that suits me fine! Be sure to check out the two current contests, where you can win the whole ACROSS THE UNIVERSE series by Beth Revis, and where you can win a signed copy of TIME BETWEEN US by Tamara Ireland Stone.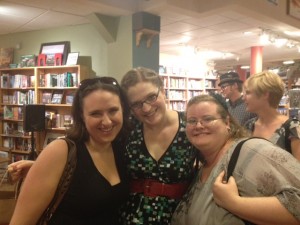 Tomorrow I'm leaving on a mini signing tour, and I hope I'll get to see some of you guys along the way! I'll be hitting up Malaprops in Asheville, NC, Fountain Bookstore in Richmond, VA, Hooray For Books in Alexandria, VA, and Politics and Prose in Washington, D.C. The best part about all of it is that I'm going to be chatting with and signing alongside some absolutely kickass YA authors, including Beth Revis (ACROSS THE UNIVERSE), Megan Shepherd (THE MADMAN'S DAUGHTER), Lenore Appelhans (LEVEL 2), Jodi Meadows (ASUNDER), and Victoria Schwab (THE ARCHIVED).
Click here to see my event schedule over the next week–be sure to come by if you can! Hanging out with other people who love books, whether they be authors, aspiring writers, readers, or just plain quiet folks who like the smell of binding glue… well, that's just plain guaranteed to be a good time. (Read more…)
---

Jul 11, 2012
I'm taking a break from this month's Kindness Project in order to focus on the SKYLARK Blog Tour. (Today I'm over at Nova Ren Suma's blog, Distraction99, talking about embracing fear on her Turning Points series.) But anyone who knows me knows I'm not very good at multitasking, and since I've been writing guest posts left and right for the tour, I couldn't scramble my brains enough to come up with anything coherent. I have so much I wish I could say–I've encountered so much kindness over the past month that I barely know where to start. The kindness and enthusiasm of book bloggers, fellow authors, readers, new fans… it's overwhelming seeing people supporting me and my book, and supporting books in general.
Still, even though I'm not posting today, I still wanted to make sure you all got the links for everyone who is posting. So please, be sure to check out the amazing people making it their mission to bring more kindness into the world.
---

Jun 29, 2012
Hi guys! I've been a little quiet lately–but only because I've been busy! Ever since I found out that Skylark was going to be available August 1, two months before its official pub date of October 1, I've been arranging guest posts and interviews all over the place. And guys, book bloggers? They are totally awesome. I'm pretty much head over heels for how fun everyone has been to work with so far!
So, without further ado, let me announce:

---

Jun 27, 2011
I think most writers have been labeled "weird" at some point in their lives. (Especially those of us who write science fiction and fantasy!) We like reading more than most people, we're often into geeky things, we're happy being totally alone for long stretches of time, we do things in the name of writing and creativity that would land other people in some sort of therapy. (See previous post about talking to oneself while writing!) I think part of why joining the writing community online is so much fun and such a revelation for so many aspiring writers is because you realize for potentially the first time that you're not alone. You're not weird–you're brilliant.
---

May 20, 2011
A question I see pop up a lot from aspiring writers has to do with creative writing MFA programs, and whether they're a necessary or even recommended step toward getting published. Someone just asked me this question the other day, and after I rambled at the poor girl for a while I realized that it was a subject on which I have a lot to say.
---

Jan 22, 2011
Hello, friends!  I've been pretty quiet lately, given the chaos on my side of things.  Lots of travel, lots of revision work, lots of meetups with people.  I'm now back in the U.S. for a couple weeks, although little has changed except that there are cats underfoot instead of a dog, and I sit at my computer in sweatpants and sweaters and fingerless gloves instead of shorts and a tank top.
I'm battling some sort of illness that the airplane inflicted upon me, while trying to do revisions.  I tend to get a bit loopy when I get sick, so the result is that I keep fixating on certain passages and changing them over and over again, only to come back the next day, read what I wrote, and go "Huh?"  It isn't the most efficient system, but I'm getting it done, and I think learning to work while sick is a pretty valuable skill for a writer.  It's easy to say "Meh, not in the mood, I'll do it later," but if you've got daily word goals or deadlines or whatever you use to track progress, it's easy to let one day of sick turn into five, at which point you've lost your momentum.
---