E.C. Myers

Sep 28, 2012

Uncategorized

5 comments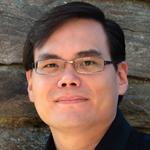 E.C. Myers
was assembled in the U.S. from Korean and German parts and raised by a single mother and a public library in Yonkers, New York. He has published short fiction in a variety of print and online magazines and anthologies, and his first young adult novel, FAIR COIN, is available now from Pyr Books. The sequel, QUANTUM COIN, will be published in October 2012. He currently lives with his wife and a doofy cat in Philadelphia and shares way too much information about his personal life at
ecmyers.net
and on Twitter
@ecmyers
. (Author Photo:
S. Kuzma Photography
.)
A Note From Meg
Welcome to "In Search of the Write Space," a new feature on my blog where authors share pictures of their work spaces, giving us all a little glimpse into their creative lives. If you didn't see this week's earlier post from Kat Zhang, be sure to check it out for a chance to win her debut novel. This time we've got E.C. Myers, author of FAIR COIN and its upcoming sequel, QUANTUM COIN. He's totally awesome, and so is his space, so I'm going to hand it over to him to take you on your tour!
Quantum Coin
by E.C. Myers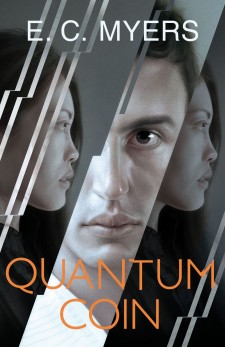 Ephraim thought his universe-hopping days were over. He's done wishing for magic solutions to his problems; his quantum coin has been powerless for almost a year, and he's settled into a normal life with his girlfriend, Jena. But then an old friend crashes their senior prom: Jena's identical twin from a parallel world, Zoe.
Zoe's timing couldn't be worse. It turns out that Ephraim's problems have just begun, and they're much more complicated than his love life: The multiverse is at stake—and it might just be Ephraim's fault.
Ephraim, Jena, and Zoe embark on a mission across multiple worlds to learn what's going wrong and how to stop it. They will have to draw on every resource available and trust in alternate versions of themselves and their friends, before it's too late for all of them.
If Ephraim and his companions can put their many differences aside and learn to work together, they might have a chance to save the multiverse. But ultimately, the solution may depend on how much they're willing to sacrifice for the sake of humanity…and each other.
---
I'm giving away one advanced reader copy of QUANTUM COIN that has been SIGNED and can be personalized to you by the author! Entries are open to US and Canada residents only. Enter using the Rafflecopter form below, and be sure to check out the various ways you can earn extra entries. If you're a Pinterest user, you can score big on the extra entries scale!
---
"In Search of the Write Space" is an ongoing feature at meaganspooner.com that showcases authors through the spaces they carve out for creativity. You can find out more about the feature, and see a list of past guests, by clicking here.
If you or someone you represent would like to participate in "Write Space," check out my policies and fill out the application form here!
5 Responses to "E.C. Myers"