In My Mailbox… ARCs! (Or, Meg Scares a UPS Guy)

Apr 06, 2012

Uncategorized

2 comments
ARCssssssssss! Yeah, so I actually got them about two weeks ago. But because my cover hadn't gone live yet, I couldn't very well show off my BEAUTIFUL galleys without giving away what the cover of SKYLARK looked like. A few friends suggested masking the cover with a fake book jacket, but in the end I just decided to wait. There was plenty of other exciting news to share with you guys, like the new title for my collaborative novel with Amie, THESE BROKEN STARS.
So, without further ado, the story of How I Got My ARCs!
When the package first came in with the ARCs, I was literally out the door on my way to have lunch with some friends. I knew that the ARCs were on their way, and so when I saw the UPS truck I just had this moment of "OH MY GOD, they're in there." So I actually ran down the three flights of stairs from my apartment and across the apartment complex and sprinted over to the truck, managed to gasp out my last name, and the UPS guy, being appropriately suspicious of this sweaty, wheezing, random person, was all "ID?" so I had to run back and get my driver's license and so forth, and by the time I actually had the package in my hands and tore it open, all I could do was sit there on the sidewalk gasping "ohmigodohmigodohmigodohmigod…"
I'm pretty sure the poor UPS guy thought I was having some kind of breakdown, because eventually he came over to ask if I was okay. So I basically told him my life's story (still gasping, but more from hyperventilation now than sprinting everywhere) and he was all "Oh, that's exciting!" While secretly thinking, I'm sure, that he needed to be ready to call the nice people with the butterfly nets.
Luckily, I was having lunch with my awesome writer friends Caroline Richmond and Lynn Colt, who, being writers themselves, were very understanding of the fact that I spent much of the lunch in a daze, staring in adoration at my handbag, where I'd tucked a copy after making it from the sidewalk to my car. After reassuring the UPS guy I was in (mostly) full possession of my mental faculties.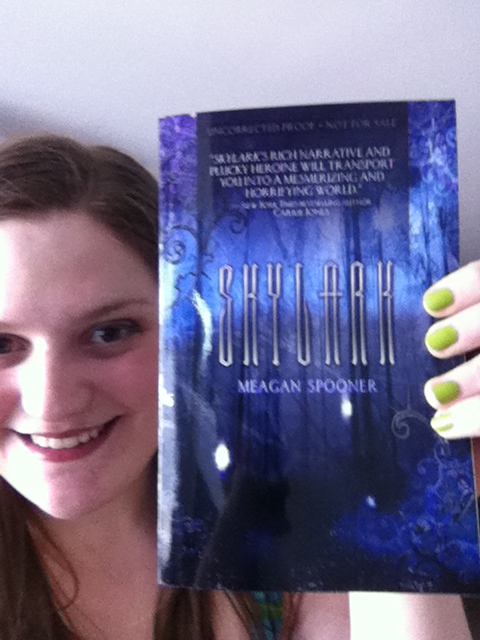 Anyway, once I got home from lunch, I ran around taking about ten thousand pictures of my book. It took me over a dozen tries to get a reasonable picture of myself with an ARC, because my smile was SO wide, and SO maniacal, that I seriously looked like I was about to devour someone's soul. No wonder the poor UPS guy was freaked out.
(Yes, that's lime-green nail polish. It was right after St. Patrick's Day, what do you expect?)
Since then I've had a little time to get used to being able to hold my book in my hands. Not enough time, though, clearly–because I still get a weird jolt every time I pick it up and realize that that's my name on the cover. I brought a couple of copies on a ski trip with a bunch of my old high school friends, and they all read it (most in one or two days!) while we were there. It was unbelievably trippy to look up from doing crossword puzzles in the living room of our cabin and see multiple people with their noses buried in MY book. Unbelievably weird.
I'm just thankful that this whole process has so many little milestones. Some are bigger than others, but if they all happened at once, I'm pretty sure our poor writer brains would just explode. There's the first manuscript request. The first offer of representation. The first editor wanting to see more. The BOOK DEAL. The first time you talk with your editor. The first time someone you don't even know approaches you about how much they liked your book. Being done with revisions. With line edits. With copy edits. With final pass pages. There's the first time you hear who your cover designer is, and you frantically look up every cover they've ever done and try to picture yours. The first time you SEE YOUR COVER. The first time you're asked to write a blurb for someone else's work. Meeting your publicist. Going to conferences.
Holding your book in your hands.
Not gonna lie, guys. It's pretty cool.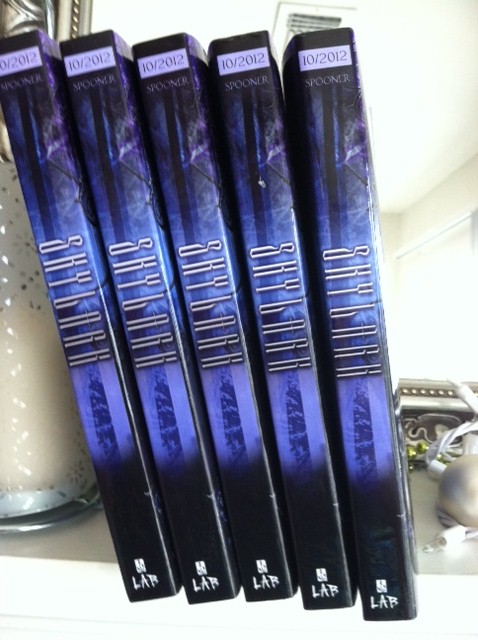 "In My Mailbox" is a feature originally created by Alea over at Pop Culture Junkie, and is now hosted by Kristi at The Story Siren. This is not a true IMM, but a (loving!) spoof, given my total excitement over the books that arrived in MY mailbox. 😛
Note: If you are a book blogger, reviewer, bookseller, librarian, etc., and you would like to request an advance reader copy of SKYLARK, please do NOT contact me. Please contact the lovely Elizabeth Dingmann, publicist at Lerner Books. Alternately, you can apply for an e-galley on Net Galley, which may be quicker and easier!
Reminder! There are a ton of ways for you to get your hands on a copy of SKYLARK right now. For one, you can head over to The Story Siren and check out SKYLARK'S cover reveal, and enter to win one of three ARCs! You can also enter my Twitter contest, where all you have to do is retweet the contest and it enters you to win a pre-order of SKYLARK, which is due out Oct. 1. You can ALSO enter Amie's and my contest to celebrate the new title of our collaborative novel, THESE BROKEN STARS–one of the prizes is a pre-order of any 2012 debut book, including SKYLARK if you so choose!
Plus, keep an eye on the super awesome Pub(lishing) Crawl Blog. There may well be a BRAND NEW opportunity to win an ARC of Skylark next week!

2 comments
ARC
,
ARCs
,
books
,
butterfly nets
,
cover
,
design
,
galleys
,
imm
,
in my mailbox
,
milestones
,
skylark
,
story
,
tiw
,
update
,
writing
,
YA
2 Responses to "In My Mailbox… ARCs! (Or, Meg Scares a UPS Guy)"