update

Feb 20, 2013
Did you come here looking for In Search of the Write Space? Well, too bad. You're getting something different today. There are still book to be won, though. Oh, are there ever books to be one.
Guys, it's finally here. It's FINALLY HERE! The cover for THESE BROKEN STARS is live today–RIGHT NOW! I could show it here in all its glory, but where would the fun be in that? Instead, Amie and I have gathered six awesome bloggers to share in the reveal. Visit each blog to see the gorgeous cover, and enter on each to win one of SIX advanced reader copies, the very first to roll off the presses! Plus, check out the unique content on each blog for more about our upcoming book. (Read more…)
---

Feb 01, 2013
It's been a busy couple of months on my end, and I haven't done much updating here outside of the Write Space series. I like looking at other authors' desks (and giving away their books) a lot more than I like talking about what I'm doing, though, so that suits me fine! Be sure to check out the two current contests, where you can win the whole ACROSS THE UNIVERSE series by Beth Revis, and where you can win a signed copy of TIME BETWEEN US by Tamara Ireland Stone.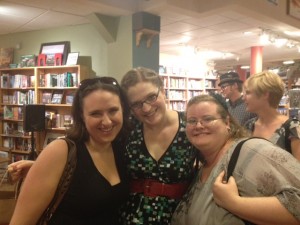 Tomorrow I'm leaving on a mini signing tour, and I hope I'll get to see some of you guys along the way! I'll be hitting up Malaprops in Asheville, NC, Fountain Bookstore in Richmond, VA, Hooray For Books in Alexandria, VA, and Politics and Prose in Washington, D.C. The best part about all of it is that I'm going to be chatting with and signing alongside some absolutely kickass YA authors, including Beth Revis (ACROSS THE UNIVERSE), Megan Shepherd (THE MADMAN'S DAUGHTER), Lenore Appelhans (LEVEL 2), Jodi Meadows (ASUNDER), and Victoria Schwab (THE ARCHIVED).
Click here to see my event schedule over the next week–be sure to come by if you can! Hanging out with other people who love books, whether they be authors, aspiring writers, readers, or just plain quiet folks who like the smell of binding glue… well, that's just plain guaranteed to be a good time. (Read more…)
---

Sep 17, 2012
Well, sorry for the radio silence from this corner of the internet! As some of you may know from my twitter feed, I've been traveling around with co-author extraordinaire Amie. (She just got her plane back to her side of the globe yesterday. I'm pretty inconsolable.)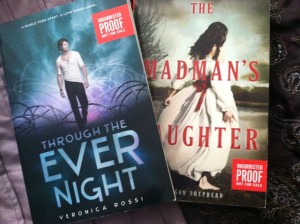 We caught up with our agents at Adams Literary in Charlotte, then headed to Asheville where we met up with the local author ladies there for dinner and chocolate and discussions of serial killers (thanks for the nightmares, Steph). I managed to get my hands on ARCs of THROUGH THE EVER NIGHT and THE MADMAN'S DAUGHTER, and devoured them both. Seriously, they are amazing, folks. Normally I don't feel the urge to brag about things when I read them before they hit the shelves, but I will be shouting about these two books for a good long time. (Read more…)
---

Aug 10, 2012
You guys may have noticed I've been a bit quiet lately. Well, there's a lot of reasons for that. The biggest one is that this happened last week: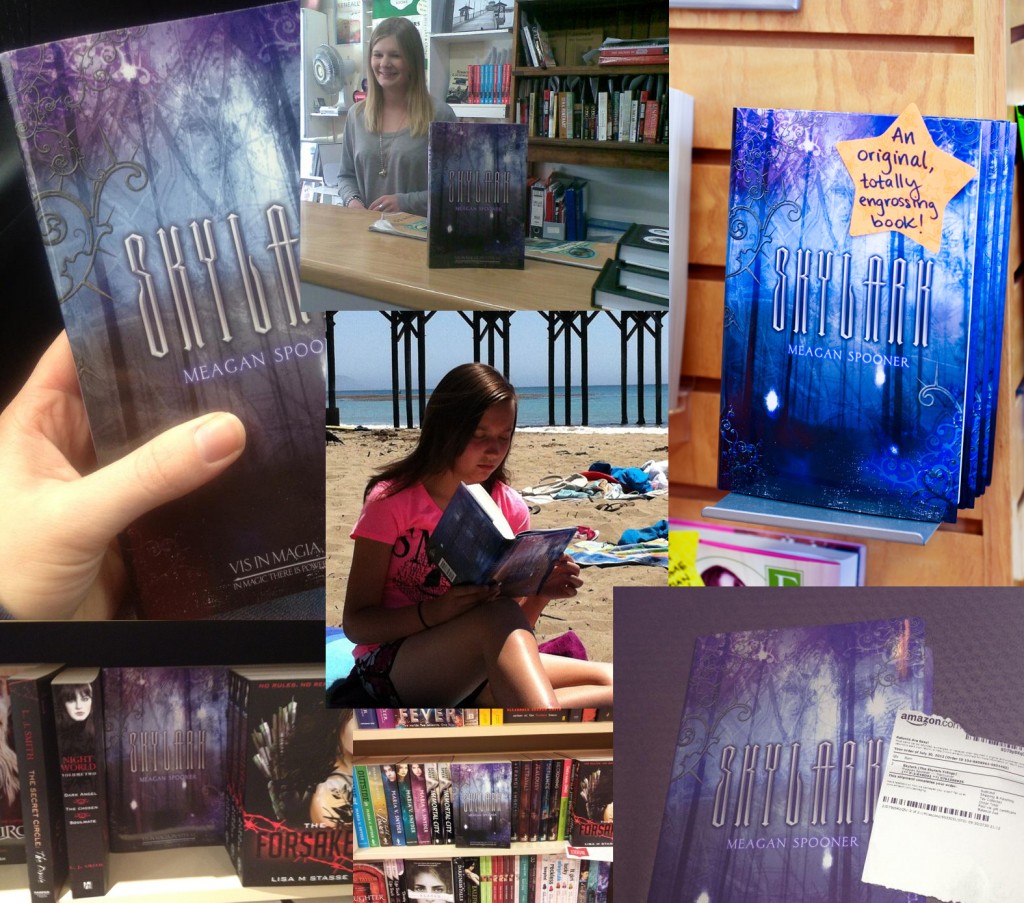 SKYLARK is in stores now! (Read more…)
---

May 15, 2012
Today I head to Africa for two and a half weeks. There's not much I can coherently say about this, because if I try to describe how excited I am I end up just running around in circles until I collide with the wall. Suffice it to say: I'm psyched.
A lot has been going on lately—so much so that I haven't even had time to pay attention to the Africa trip. Prepping for BEA in June, where SKYLARK is one of five YA Buzz Books, has been awesome. I've been getting my first few out and out fan email for SKYLARK, which is even MORE nuts. Trying to set up guest posts and interviews and giveaways for the months leading up to SKYLARK's release is entirely new territory for me. My spectacularly awesome writing partner, Amie Kaufman, and I, have finished our second round of revisions on THESE BROKEN STARS.
And sitting pretty at the top of the list, one of the hardest things I've ever done: finishing the sequel to SKYLARK. (Read more…)
---

Apr 06, 2012
ARCssssssssss! Yeah, so I actually got them about two weeks ago. But because my cover hadn't gone live yet, I couldn't very well show off my BEAUTIFUL galleys without giving away what the cover of SKYLARK looked like. A few friends suggested masking the cover with a fake book jacket, but in the end I just decided to wait. There was plenty of other exciting news to share with you guys, like the new title for my collaborative novel with Amie, THESE BROKEN STARS.
So, without further ado, the story of How I Got My ARCs! (Read more…)
---

Feb 02, 2012
For those of you who follow my writing partner, Amie Kaufman, this will come as no surprise, as she's already announced it on her blog. (For those of you who don't, march right over there and follow her!) Anyway, we have some rockin' news to share: WRECKED has sold as three-book deals in Poland (Otwarte) and Brazil (Novo Conceito)! And, because they are just that awesome, Novo Conceito has ALSO bought the SKYLARK trilogy.
---

Oct 16, 2011
Well, I've gone a really long time without updating you guys. Sorry! I'm a bad blogger! Part of that is that there hasn't been much to say–there's only so many times you can say "Working on revisions!" "Still revising, guys!" "Yep… still working on revisions…" But also with all of the revision, drafting, and critique work I've been doing over the past couple of months it's hard to find the drive to add blogging to that. Especially over the past month or so I've been working like an absolute fiend. (Just finished work on something that I hope I'll get to update you on soon!) At some point I'll find a good balance, I hope, because I always forget when I'm NOT blogging that I actually quite enjoy it when I do.
---

Aug 13, 2011
So, I kinda fell off the face of the planet for a while there. I have excuses! The air conditioner broke, making it unbearable upstairs where I work, then my computer broke, then my cat broke (he got better though). Anyway, there are always going to be excuses not to blog. The point is, I fell off the wagon a bit there, but I'm back now! Yay! I did manage to cut my finger the other day enough that I can't type very well, so it's an odd moment to choose to return. I never claimed to make sense.
---

Jun 10, 2011
So first, the big news: THE IRON WOOD has sold in Israel!! My mind is just boggling. The idea that my little book has not just found one publisher, but also found homes overseas, and is now going to be published in an entirely different alphabet? No way to process that!
---