Big Announcement… and Postcard Extravaganza!

Jun 10, 2012

Uncategorized

3 comments
First of all, before you do anything else, click over to Crits for Water and check out today's auction! Amie and I are giving away a critique, PLUS Adams Literary will look at your query, PLUS (seriously, this package is crazy) Disney-Hyperion editor Laura Schrieber will read your first chapter AND call you on the phone to discuss it with you! Have you gone to check it out? Yes? Okay, then carry on below.
Well, I think I'm finally recovered (mostly!) from BEA. It was my first Book Expo, and man, what a way to start! My editor, Andrew Karre, spoke on the YA Editors Buzz Panel about SKYLARK, and then I got to sit with the other amazing buzz authors and discuss our books on our own panel. I also got to meet a wonderful bunch of bloggers at the blogger breakfast with me, Maggie Stiefvater, Tessa Gratton, and Brenna Yovanoff.
And then—one of the craziest experiences yet—I got to do this: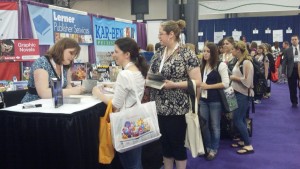 Look at that line! Total madness. I got to meet so many awesome people while I signed, I wish I could've had more time to talk more! One guy told me that he wasn't even going to come to BEA that day—but he came JUST to get his hands on a copy of SKYLARK and get it signed. Dude, whoever you are, you made my day. And given what an incredible day it was, that's saying something.
BUT. My BEA recap isn't why you're here, reading this. You might think it is, but you'd be wrong. Why ARE you here, you might ask? Well, you're here because I have an insanely awesome, huge, exciting, CRAZY announcement to make.
Seriously. It's nuts.
Are you ready?
SKYLARK is going to be available August 1.
Yep.
You heard me.
SKYLARK will become officially available August 1! Right now some online retailers are still listing the Oct. 1 date, which may mean that pre-orders on those dates won't come until then. But Amazon is listing the August date. And best of all, if you do what I do and order your books from your local indie store, you can let them know about the August date and make sure you have it first!
I'm jumping up and down from excitement that my book's going to be available so soon… and to prove it, I'm going to send out a whole mess of SIGNED, PERSONALIZED postcards to celebrate. Want one? All you have to do is enter your address in the form below!* I'll send them out until I run out of the ones I've set aside for this extravaganza.
And guys, stay tuned… I'm gonna have some awesome stuff to give away over the next month and a half!
*Sorry, but this particular giveaway is only available within the U.S. But I will be giving away stuff internationally in the very near future! Don't worry, I haven't forgotten you guys!
Sorry, this giveaway is now CLOSED. Keep an eye on this blog, though, because there'll be a chance to get postcards and more soon!

3 comments
Amie Kaufman
,
announcement
,
bea
,
book expo america
,
books
,
buzz
,
buzz panel
,
contest
,
crits for water
,
giveaway
,
launch
,
postcards
,
publication
,
publishing
,
recap
,
release day
,
signing
,
skylark
,
YA
3 Responses to "Big Announcement… and Postcard Extravaganza!"